Indiegogo is known as a crowdfunding campaign for new ideas and products, but they take it a step further and deliver a commerce platform for campaigners. Standard campaigns have a limited timeframe for fundraising, and Indiegogo InDemand eliminates this barrier. 
In short, you can keep fundraising and selling your product indefinitely after you meet your standard funding goal.
How does Indiegogo InDemand work? Is Indiegogo InDemand worth it? How can you set up your campaign? These are some of the questions we will answer in this Indiegogo InDemand guide.
If you've completed a successful campaign on Indiegogo and are looking to keep reaping the platform's benefits for as long as you want, keep reading through.
What does InDemand mean on Indiegogo?
Indiegogo InDemand is a special campaign type that allows you to raise funds without a time limit or goal. After your project meets its goal, you can upgrade your campaign and keep selling your product.
With exposure to a large, relevant audience, Indiegogo has a lot to offer to campaigners. Ultimately, the platform can serve as a landing page or an online store for your product. 
Let's talk more about how Indiegogo Indemand works in the next section.
How does Indiegogo InDemand work?
All running campaigns on Indiegogo automatically turn into InDemand after they meet their goal. The same 5% fee will continue to be charged by the platform when your campaign ends and automatically switches to InDemand.
As we know, for Indiegogo InDemand, you must meet the goal set for your original campaign. After your InDemand campaign is live, it can run if you keep meeting your minimum disbursement amount every six months, usually 100 in your campaign's currency. 
What if you need to hit the goal for InDemand Indiegogo? In this case, your campaign will automatically shut down.
Indiegogo InDemand isn't only for Indiegogo campaigns. Even if your campaign wasn't originally on Indiegogo, you could still transfer to the InDemand program (but with an additional fee of 8%).
The Indiegogo InDemand process is very straightforward for campaigns that ran originally on Indiegogo. Let's go through it together.
How to Set Up and Manage Your Indiegogo InDemand Campaign
The Indiegogo InDemand program is an excellent tool for crowdfunding campaigns that want to keep getting the platform's benefits. Even for campaigns that initially ran on Kickstarter or other crowdfunding platforms, the transfer can be easy and quick. It can take a few minutes to set up once you have all your content ready.
Let's run through the setup, process, and transfer step-by-step to help you get started.
Setup InDemand Indiegogo
When setting up any campaign on Indiegogo, you'll automatically opt into the Indiegogo InDemand program. So, to set up InDemand Indiegogo, you won't have to take any additional steps. 
Does Indiegogo ask campaigns to be InDemand? The answer is no. The process is automatic. Once you hit your campaign goal and meet your deadline, your campaign is moved to InDemand.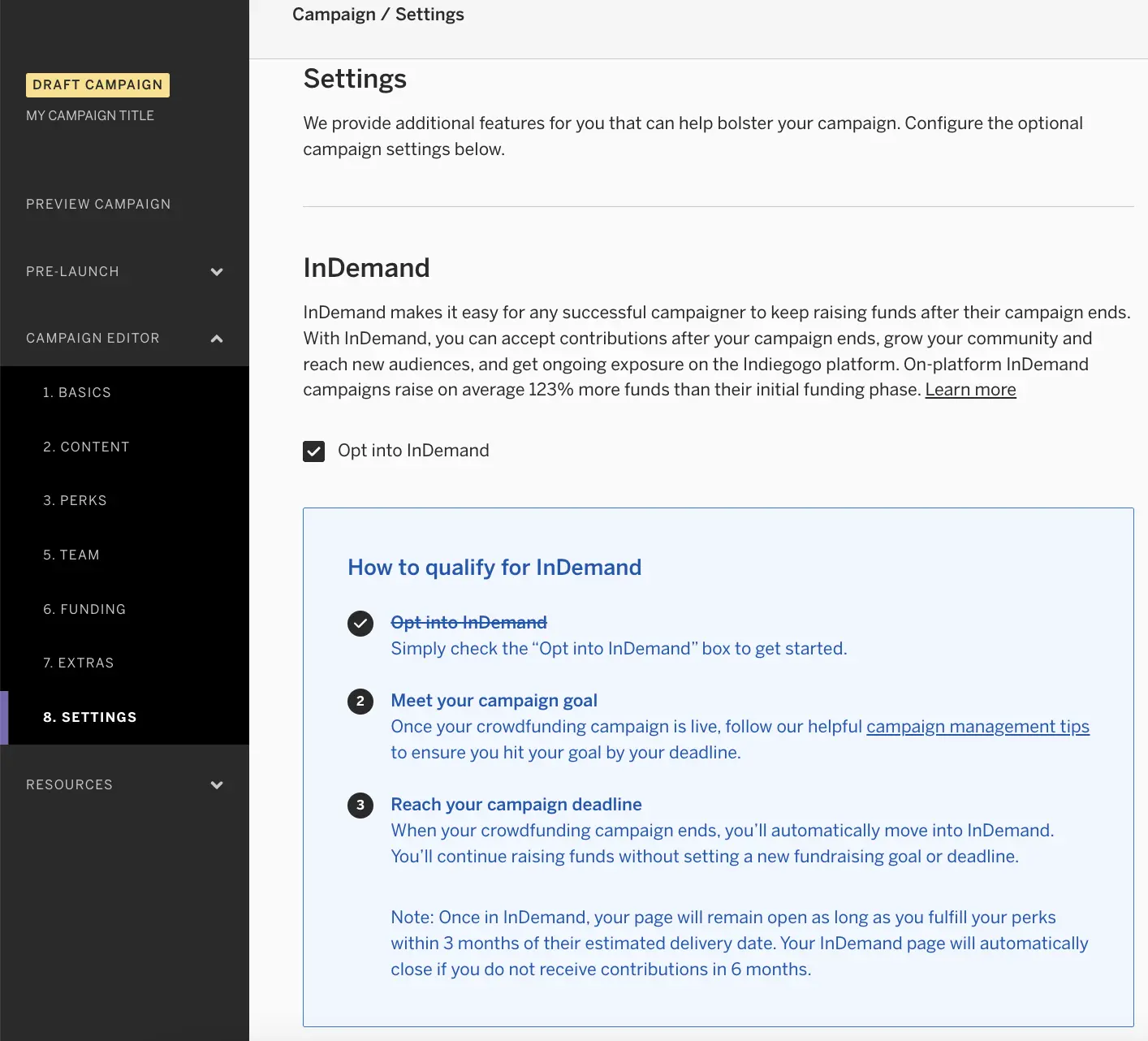 After your campaign moves to InDemand, you'll be able to update the information on the page to optimize it for longer-term success.
Note: If you'd like to opt out of Indiegogo InDemand, you can update your campaign settings (before launching it) and uncheck that button.
Indiegogo InDemand process and transfer
If you're new to Indiegogo, this section is for you. We'll tell you how to transfer your campaign from Kickstarter or other crowdfunding platforms. If you've met your crowdfunding goal on another platform, you can move into Indiegogo InDemand in a few simple steps.
First, you'll need to create a draft of your campaign on Indiegogo (but wait to launch it). Although you'll be drafting a new Indiegogo campaign, the team will turn it into an InDemand campaign upon request.
Some fields aren't relevant for InDemand (e.g., goal and timeline), so feel free to fill in arbitrary figures. But remember to choose "flexible funding" for your InDemand campaign to be valid after confirmation.
Contact Indiegogo support
Next, you'll need to contact Indiegogo for a special request by sending your draft campaign and your previous campaign links to [email protected]. The team will review your request and turn your campaign into an Indiegogo InDemand campaign as soon as it launches.
Wait for your confirmation from Indiegogo.
Once you get your confirmation, your Indiegogo InDemand transfer will be complete. After this, you can click on launch and go live!
Note: You can even apply for Indiegogo InDemand while running your Kickstarter campaign for a smoother transition.
Off-platform InDemand campaign fees
Remember that there is an additional 3% platform fee (on top of the 5%) for campaigns that ran and met their goals on other platforms. There are also third-party app fees that you might encounter, so head over to Indiegogo for more details.
Now that you've set up or transferred your Indiegogo InDemand campaign let's learn a bit more about how you can optimize it for maximum results.
Promoting Indiegogo InDemand campaigns
On average, Indiegogo InDemand campaigns raise 123% more than their original campaigns. But keeping your campaign running without optimizing it for InDemand is a missed opportunity. 
With original campaigns, the time limit gives a sense of urgency to potential backers. You lose this motivational factor with InDemand. That's why you need to modify your content to keep bringing in more and more funding as your Indiegogo InDemand campaign is running.
If you know how long Indiegogo InDemand lasts, you'll understand that change is needed to bring in new backers constantly. So, let's talk about the best practices you can use to promote your InDemand campaigns.
Redirect your old campaign page to the new InDemand page.
If your old campaign ran on Indiegogo, this is something to be okay with. Your Indiegogo campaign will automatically turn into an InDemad campaign once you reach your goal and your timeline ends.
If your original campaign ran on a different platform than Indiegogo, you'd need to make sure you're redirecting that traffic to the new and improved InDemand page. Here's how you can do this:
Utilize the "Spotlight" button on your Kickstarter page to redirect traffic to your InDemand campaign after your project ends.
Use short links that can be updated later on. This way, if you've shared your campaign on socials, the link will automatically bring people to the new Indiegogog InDemand campaign.
Use social media marketing to promote your campaign & perks.
Social media platforms are almost always effective in bringing in new audiences to your campaign, improving your brand awareness, and even boosting your pre-orders. 
Ultimately, you'll need to promote your campaign, let your backers know you're still accepting pre-orders, and highlight your perks to increase sales.
Send timely updates to existing backers.
Keeping your Indiegogo InDemand campaign page is crucial to bringing in more and more pre-orders. Not only will you keep your community engaged, but you'll also let new potential backers know that you're living and thriving. 
It's also a good idea to post updates on your campaign page about your manufacturing and fulfillment process. 
Update your content and video.
After your campaign moves to InDemand, you must update your content to reflect this change. First, you'll be able to build trust by showing your initial campaign results. Next, you'll need to show gratitude toward those who backed your original campaign.
Updating your video is also a great idea. You will include timely info in your new video about shipping updates and other news. 
Adjusting your content to reflect your new achievements and milestones will help you gain more traction and pre-orders. Since your goals will change, you'll need different content, CTAs, perks, and motivators to achieve them.
Keep your response times short.
After moving to InDemand, you'll likely keep getting inquiries and comments requiring quick responses. You'll need to be quick if to retain as many backers as possible. 
Engaging with your potential backers shows them that you care and makes them more likely to help out your cause.
Now that you've taken the necessary steps to optimize your campaign for Indiegogo InDemand let's talk more about the logistics of this campaign type. 
Managing fulfillment for your Indiegogo InDemand backers
Raising funding and generating pre-orders is only one side of the puzzle. Next, you'll need to fulfill those orders and deliver your promises and perks to backers on time. 
Let's talk about how you can access your backers' data and fulfill your orders.
Finding & exporting your backers' data
After logging in to Indiegogo and navigating to your dashboard, you'll need to go to the "Perks Claimed & Donations" section. Here, you'll be able to find all the data about your backers, including dates, amounts of perks and donations, names and email addresses of backers, and shipping addresses (wherever applicable).
You can download all this data in a CSV format or view each contribution by clicking on their "contribution number."
Manage your pre-orders from your Indiegogo dashboard.
On your Indiegogog InDemand campaign dashboard, you'll be able to track your orders or contributions with three sections or tags:
Placed: This shows all orders that have been placed and awaiting fulfillment.
Locked: This shows all orders that are ready to be shipped out.
Fulfilled: This shows all orders fulfilled.
Update fulfillment states
All your contributions and orders will be in the "placed" state once you receive them. 
After you have your items ready to ship, you may move those orders to the "locked" stage to prevent contributors from requesting a refund. 
Lastly, once you ship out the order, you must add a tracking number to move orders to the "fulfilled" state.
Special tips for perk fulfillment
After learning how you can manage your perks, access backer data, and fulfill your order, let's talk about a couple of best practices for perk fulfillment.
Send updates to your backers about shipping updates. If you post an update on your Indiegogo InDemand campaign page, it notifies your backers via email.
Remember to be as kind as possible to your backers. Excellent customer service can go a long way.
Underpromise and overdeliver. If you start fulfilling your orders even before your campaign ends, your community will love you for it.
Closure
That's all, folks! We've told you all you need to know about Indiegogo InDemand, including what it is, how you can get set up, how you can transfer your Kickstarter campaign, and more. 
Be sure to follow all the best practices we suggested to give your campaign all the chances of succeeding.
Overall, Indiegogo InDemand is an excellent option for any crowdfunding campaigner who reached their campaign goal. You'll get to show off social proof from your original campaign while also showcasing the perks and benefits of your product. 
Ultimately, your InDemand campaign can serve as a landing page where people can learn more about your product and pre-order your product.
Remember to track your perk fulfillment and keep your backers happy! 
Lastly, we wish you the best of luck in your Indiegogo InDemand campaign.