Have you ever heard people using popular brand names in reference to generic phenomena?
"I'll Google it!" or "That image is Photoshopped!"
Slim chance, but you may well be searching information on Bing or using MS Paint to make artwork. Nevertheless, these brands have permeated our social fabric and stand in for the actions they represent.
This is brand awareness.
It embeds itself into our lifestyle, influences our language and purchasing habits to an extent where you don't think twice before making a decision—time and time again.
Increasing your brand awareness means increased purchases and repeat customers. It is said that customers are God. Gifting thank you gifts is a way to repay customers to thank them for their loyalty to the products sold by the company.
Yet brand awareness is just the tip of the brand visibility iceberg. The more you are exposed to a brand, the deeper it becomes imprinted in your brain.
Nowadays, the most prevalent and accessible tools to increase brand awareness, are—you guessed it—Facebook, Instagram and YouTube. These remarkable brand promotion mediums are leveraged by thousands of brands thanks to their extensive audiences across diverse verticals.
But are you harnessing their full potential?
There will always be some untapped features that may dramatically impact your brand awareness efforts and amplify your visibility, waiting to be discovered.
In this week's Know How article, discover ways to:
Expand your video reach on YouTube with relevant tags,
Get influencer posts on Pinterest without a promo narrative, and
Maximize some eye-popping Instagram features you likely don't know about.
I know you're aching to start… so let's dive in!
Boost Your Niche Authority with Quora Spaces
In light of LinkedIn's immense traction lately, Quora's new feature—Quora Spaces—seems to be fading into the background. But with over 300 million active monthly users, should it really?  
Quora's answer to Subreddits and Facebook groups, Quora Spaces, are communities formed around shared interests and professional aspirations. 
It's currently not as populated, making it an emerging opportunity to build an engaged audience and rank higher in searches before the competition gets too crowded. 
But Quora is pretty selective when it comes to granting its member base access to leverage this feature. It's only available to top writers and members with a wide following. 
To check if you meet the criteria, tap Your Spaces section in your Quora account and see if this "Create" button pops up.
If yes…. congrats! 
This is your prize for your hard-earned reputation in Quora. 
Now go ahead and name your Space and write a one-sentence description to define the niche of your Space. 
To maximize your optimization efforts and appear in search results within Quora and Google, make sure to include relevant trending keywords to relay the right signals regarding your site's content. 
You can start publishing insightful posts, inviting followers, and growing your audience.
Don't forget to follow our newly opened Space of Crowdfunding Mastery, where we'll disclose all the useful hacks and advanced marketing strategies to raise 7-figure amounts on your crowdfunding campaigns. 
Garner Your Video Remarkable Reach On Youtube with the Right Tags
With over 11 minutes of video content watched by 2 billion logged-in users a day, YouTube harbors tremendous potential to boost your brand visibility and grow an audience of dedicated fans.
It is also an ever-increasing challenge, competing against the 300 hours of video uploaded every minute—building a stream of views during the early stages of your brand's existence is no easy feat!
Around 70% of what people watch on YouTube is determined by its recommendation algorithm. If we translate this into practical terms, by leveraging YouTube's recommendation algorithm in your favour, you can significantly boost your views and chances of beating the fierce competition and getting tangible exposure to your videos.
Since YouTube is the second biggest search engine—right on the heels of its big brother Google—this process is nothing but a vivid example of optimization.
And as with optimization of any kind, keyword research is of paramount importance.
On YouTube, there are three main signals that convey the content of your video—title, caption and tags. Each of these 3 pillars should contain the crucial 1-2 keywords that would envelop the meaning of your video and help YouTube's algorithm display it to the most relevant audience.
This week I came across a new tool called RapidTags which among many features offers a tag generator, tag analyzer and keyword ranker.
1. Tag Generator
Pop your YouTube video's title into the search box and within a matter of seconds the tool will display numerous tag suggestions. Based on the results, you can easily edit or copy the tags to suit your needs and paste them directly into your YouTube video tag section.
You can also include the most crucial 1-2 keywords in your title and description to influence your ranking ability with the selected keywords.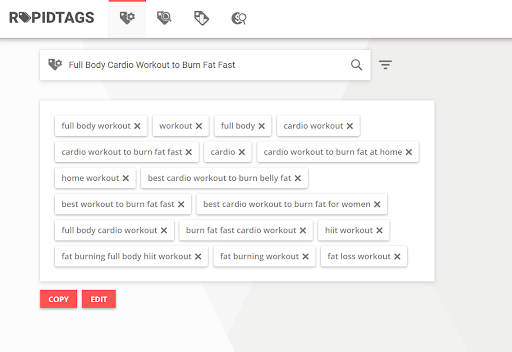 2. Search Ranker
This tab offers you insights on the keywords your video ranks for on YouTube. Just enter the URL of your video and the tool will scour YouTube to find all the different keywords and phrases your video is identified with and rank them.
You can keep changing your tags, description and title, and return to this tool to see how well your video is performing and whether the video update has helped or hindered your SEO.
Leverage Influencer Networks On Pinterest To Promote Your Brand
By Sona Madoyan
Pinterest is generally overlooked when it comes to Influencer Marketing. And the reason lies in the platform's peculiarities.
Pinterest was never designed to be a brand promotion medium. And this is perhaps what enticed around 320 million people to love Pinterest, growing it into the third most popular social media network in the US.
Pinterest is the best place to turn to in a quest of creative and out-of-the-box ideas, tips and life hacks.
As an example, there are lots of influencers on Pinterest who showcase how to match clothes and accessories, for any style and occasion. They capture several beautifully-matched items in one photo and post it accompanied with an enlivening caption (eg. item names, piece of advice, etc.).
Take a look at this great matching Pinterest board!
If you have a shoe brand or make clothes, jewelry, or other accessories, you can probably find an influencer to take a nice photo with your item.
This can be a great way to increase your brand awareness natively, without sounding promotional.
As you choose a relevant Pinterest board, make sure it has a large follower base to maximize the likelihood of appearing in front of more eyes, garnering remarkable exposure for your product.
Create Epic Collages On Instagram To Drive Engagement
Insanely popular among influencers back in their early days, collages evolved into one of the hottest Instagram trends of 2019. And they don't seem to be losing steam in 2020.
To make your collages epic, Instagram has recently rolled out a new feature called New Instagram Layout Mode for Stories!
Here is a quick walkthrough of its super-intuitive set up:
First, open Instagram Stories' Layout mode. You'll find it at the bottom of your camera, right next to other modes like Boomerang and Superzoom.


From the center of the screen, tap the layout you like best from the various options available.

Then tap the checkmark button and proceed to add other design elements, such as text, tags, filters, emojis, drawings, GIFs, and more.
And that's it!
Now you can either share your layout or save it to your camera roll for later.
Make your next Instagram collage with this new feature and share your results with us @TCF.Agency!
Impress Your Instagram Followers with Striking Boomerangs
These back-and-forth looping GIF-style videos entered our lives 5 years ago. With their lively overlays sprinkled with elements of quirkiness, Boomerangs have been captivating millions of Instagram users since then.
Today, Boomerang effects are one of the highly sought-after elements in social media editorial calendars.
Their potential to achieve virality makes them one of the best ways to increase your brand awareness and shape a highly-engaged follower base.
So if you are already periodically posting Boomerang videos on your brands' social media channels—or if you've been holding it off for a while, which you shouldn't be doing—here's a smart little hint to step up your game!
Recently Instagram has updated the Boomerang mode in Instagram Stories introducing some brand new, eye-popping effects. And they look really cool!
Users can now shoot a Boomerang, choose from three creative effects, and trim footage—all directly within the Instagram Stories camera.
To try out the new effects:
Open the Stories camera and swipe right into Boomerang mode.

Once you've captured a clip, tap the new Infinity icon at the top left-hand side of the screen to reveal three new effects and a trimming tool.
Slowmo: Slows down the clip to half-speed, so a 2-second clip becomes 4 seconds in length.
Echo: Adds motion blur to each video frame, creating a "double vision" effect.
Duo: Rapidly rewinds your video and adds a glitchy transition.
The trimming tool, on the other hand, allows you to easily trim your clip so you can decide where your Boomerang loop starts and stops.
Once you've finished capturing a Boomerang and upped your game with these stunning effects, you can now publish it straight to your Stories or save it directly to your camera roll.
But even after you've posted it to your Stories—you're not done yet!
Go ahead and share your Boomerang to your feed, where videos can really elevate your engagement and increase your brand awareness.
Sharing posts in FB groups from Product Page
To generate some brand awareness and gain more followers, we often share our campaign posts in relevant Facebook groups.
But what we usually get out of this is just one-time, bare post engagement (i.e. likes, comments, and shares) and reach—with little or no prospect of building brand awareness, let alone generating conversions.
I came up with a little hack to level up this strategy and gain more tangible results.
When someone writes a comment under our posts in groups, we usually reply to it from our personal Facebook accounts and not from our pages. As a result, people engage with us instead of our brand.
Want to see how we use the product page to share posts on FB groups?
People will engage with the brand as the brand is the one that clarifies their inquiries and builds a community around it.
We can also invite all the users who've interacted with our post to like our page and raise the number of our followers which, even at a purely psychological level, signals credibility and trust to any newcomer.
If you decide to take this path, make sure to avoid using the same description and visual in every single FB group you plan to post. Otherwise, chances are your page will be deemed as Spammy by Facebook.
To spur post engagement, make sure to include a question in the description, that prompts people to comment and answer.
The only pitfall of this strategy is that group admins may not allow pages to join their groups. Also, please note that pages can only request to join groups and can't be invited by its members.
——————————-
This wraps up this week's Know How article!
Will you be applying these strategies to increase your brand awareness? Maybe you've been practicing some of these already? Or maybe you've got a different plan in mind?
Share your ideas in the comments below, and if you try out any of Instagram's new features, let us know via DM at @TCF.Agency! We'd be happy to hear your thoughts.
And before you leave—armed with this innovative outlook on social platforms' potential—don't forget to check out our latest article on increasing engagement on Instagram.