With the unprecedented growth in viewership, YouTube is now seeking ways to boost its ad inventory.
It is now running a small experiment where it shows viewers of specific videos the products featured in the clip. Whether this new feature will eventually find wider implementation, it's just one more proof of its enormous monetization potential. 
And while the folks at YouTube are busy sorting out the new debut (or not), we'll double down on what's already performing great—influencer marketing!
Besides discovering a data-driven tool to select your most relevant YouTube influencers, find out about an automation to turn trade-show participants into life-long partners, learn about a feature you've always seen on Google Analytics but likely never clicked, along with some more fantastic tools and tactics in this week's Know How. 
Let's jump right in!
Make YouTube Influencer Marketing A Data-Driven Mission
In last week's Know How, we initiated a crucial transition that will redefine how we view our YouTube partnerships moving forward. 
Drifting away from the subscribers count to capitalize on views. 
Some bloggers might own just a fraction of the vast following of their popular competition. But just because they talk about what's trending at the moment, YouTube algorithms will promote their videos to a far wider audience than what their actual follower count entails. 
But before you set this tactic to do its magic, consider honing it with some consistency. 
Just as you wouldn't trust your buzzworthy product debut to an influencer with just a single viral video, you want to partner up with influencers who have seen spikes in their viewership repeatedly rather than sporadically. 
So you'll too stand a better chance of seeing similar success. 
And to ignite your odds, here is a robust research tool I discovered this week. 
Enter your target keyword, specify the age, gender, and geography of the influencer audience, and Easy Bloggers will generate a list of tens—and sometimes even hundreds—of relevant YouTube influencers. You can further narrow down your search according to your budget. 
But keep in mind that this is just an average price range that can fluctuate based on a number of factors. So don't give in to the draining guesswork of figuring out where you stand along the spectrum. Instead, focus on the relevance now and leave this question to direct to influencers only when you reach the negotiation phase. 
Displaying relevant influencers is just the stepping stone to the goldmine of insights Easy Bloggers offers. 
For each YouTube blogger, the tool will show you a robust set of data, including conversion and click-through rates along with some crucial engagement metrics—Like rate and comments counts. 
Right underneath this section, you can also find analytics about the influencer audience demographics and geography.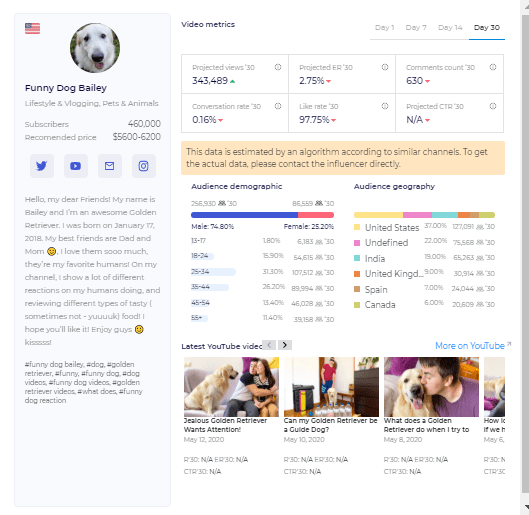 I believe Easy Bloggers will become a great addition to your radar to substantiate your influencer research and ignite your next campaign. So don't delay in giving it a try!
Tasks Moved Into Gmail To Organize Things More Easily
Google doesn't want you to miss even a single email followup anymore. And it is committed to reminding you as many times as it needs to before you get it done. 
It has even migrated Tasks into Gmail's top bar.  
Look up. It's right there. 
Open an important email you need to follow up or take any other action on and click on the "Add to tasks" button in the top overlay. It will instantly pop up a window in the right-hand sidebar to set the expected date and time of the completion and add notes to your task.
The task will also appear in your Google Calendar. 
And Gmail will send you a reminder 10 minutes before the deadline. 
When you are done with your task, check it off in your Gmail sidebar and it will be automatically marked as done in your calendar too.   
And you are good to go, my geek organizer! 
Integrate Tasks in your daily workflow and you'll save yourself a great deal of legwork to pursue your other goals.
Audience Insights Tab In Google Analytics To Find Crucial Data In One Place
Sometimes great things don't have to be hidden under wraps to be found. They have always been there right before our eyes. But we somehow managed to overlook them caught up in our day-to-day tasks.  
Did you, too, just discover the Insights in the Home tab of your Google Analytics? 
It's on the upper right-hand corner of your Home interface.
Click on it and it will roll out a set of key performance metrics you likely check back multiple times during a day. While we had been scouring the different tabs of Google Analytics like crazy to locate each of these data points, it appears they have always been neatly cataloged in this one single place. But, ironically, we just never clicked on it! 
But there is more to why I love Insights.  
Oftentimes, Analytics intelligence will surface answers to the likely-sought-out inquiries you may have never, indeed, asked yourself  before. And more often than not, the practical insights you'll get will become instrumental in pivoting your advertising campaign.
Take this as an example. Have you ever asked yourself how the session duration may vary depending on the type of the device used by your leads? If not, seeing this graph in Insights will likely inspire you to think of ways of how you can bridge this gap.
Start leveraging Insights in Google Analytics today to draw data-backed inferences and optimize your marketing efforts through strategic changes.
Turn Trade Show Participants Into Partners With Phantom Buster
We usually walk out so inspired by the boldest innovations at trade shows, that the only idea buzzing in our mind is to build partnerships with the most promising creators—in no time. 
But then we watch that "no time" swiftly grow into days, then weeks—all because of the infuriating manual routine it takes to scrape participants' contacts from exhibitors' lists. 
And it would have still been the case should this handy automation from Phantom Buster hadn't found its way to my inbox.
This time they developed a new set of automations to scrape the email addresses, phone numbers, and other contact data of all the companies listed in the trade show's directories. 
The challenge is that this information can be displayed in a number of ways—sometimes simple and often convoluted. And each respective arrangement will determine the set of automations you need to use to access the data. Let's look into the 3 most likely cases. 
Case 1: The directory displays an index of all exhibitors on one single page. 
This is the ideal scenario where we have the list of all the exhibitors gathered on a single page. Upon a mere click on the company name, you'll see a full-page displaying the phone and email of each company. 
Strategy:
Open a Data Scraping Crawler on the index page (on the left side) to extract every link there. 
Choose the data you want to scrape (i.e. Emails, Phone numbers, LinkedIn profiles).
3. Set the depth to "1" so that it visits all the pages and elicits the requested info. Phantombuster denotes the starting page as level 0. All the pages linked from it are level 1. All the pages linked from level 1 are level 2, etc.
In just a matter of seconds, it will migrate all the extracted data and neatly lay it out in a spreadsheet with a timestamp next to each result.
Case 2: The trade show website displays all results over multiple pages
Lots of exhibitions have 1000s of participants. And the common way to show this large volume of results is to divide them up over multiple pages.
Strategy: Forge URLs, precisely dubbed the scary-but-for-real-it's-not-that-scary mechanism by Phantom Buster itself. 
Copy the URL of one page. It can be by page: exhibition.com/exhibitors/page-1 or any variation of this.
Paste that URL in a Google Spreadsheet.
And generate all the pages' URLs just as follows.
Easy as 1, 2, 3! 
Case 3: The results are displayed on a page with an infinite scroll
In this case, as you've guessed, you can hardly see more than just a few results before you have to scroll down again. And again. And more. 
Strategy:
In this case, we'll first scroll down to the bottom of the page to capture all the links on the page. This might take a while, but keep in mind you have to do it just once. 
We'll then use the Link Klipper browser extension which will extract all the links to a spreadsheet.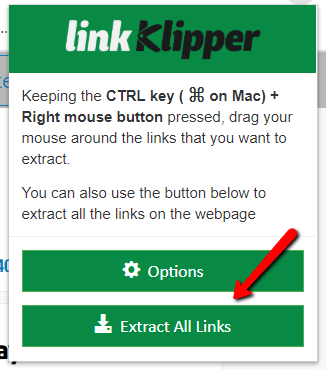 3. You'll then need to clean the spreadsheet and give it as an input to the Data Scraping Crawler, following the remainder of the steps described in Case 1.
There are a few more cases and strategies to hack around them detailed in Phantom Buster's blogpost. But these 3 are the most likely cases you'll encounter in your search. 
Use these seamless automation sequences and build ties with trade show participants in no time. 
This time in all seriousness 🙂 
Build Custom Audiences On Facebook Through Custom Events
By Ani Hakobyan 
There are 2 types of events on Facebook—Standard and Custom. 
Standard events are actions predefined by Facebook that trigger the pixel to fire and log it as a distinct event. This can be a Purchase, Add to cart, Complete registration, etc. 
However, standard events are quite limited, inhibiting us from setting up unique actions to segment out our prospects and customize their journey according to their previous interactions. 
For that, Facebook's got another option in-store—Custom events. In essence, these are actions beyond Standard events that you can set your pixel to track. 
These can include tracking people who: 
Viewed a specific page for a minimum amount of time, e.g. 60 or 90 seconds (active time on the page)
Scrolled 50% or 60% or 80% of your page (i.e. scroll depth)
Clicked on the social share button(s),
Clicked "Download" or any of the buttons on your website
Submitted a form on your website
Literally any other action you see as strategically important to your campaign. 
The bottom line is you have so many possibilities to create Custom events that will reflect your business goals and build ties with audiences that are genuinely interested in your offering. 
Once set up, you will now have the option to create Custom Audiences populated with people who took the desired Custom action. Just keep in mind that you'll need to start with a Standard event first to be able to switch to Custom events later on. 
And now…comes remarketing! Retarget your prospects time and time again before they make the right decision. 😉
Testing This Week: Clearbit! 
We're on a data-driven streak this month! 
Similar to last week's Quantcast in the way it gathers additional firmographic data on your audiences, Clearbit claims to take it one step further.
It not only helps you understand your audience, it also allows you to target them even more in depth!
Find customers based on their job, position, and create lookalikes right from within the intuitive Clearbit interface.
Will it work?
Sign up to our weekly newsletter and find out in next week's exclusive analysis!
———- 
This wraps up this week's Know How! 
Have you used Easy Bloggers to find a cluster of relevant YouTube pages to promote your brand? With the robust metrics there, you're almost guaranteed an impactful influencer campaign! But remember—don't rely on the prices! 
What about the Insights on your Google Analytics Home tab? Check it out! It's a goldmine of actionable insights. 
And before you walk out, armed with these new tips and tactics, don't forget to also read our latest article  on the top 11 tech journalists you should follow now. 
I'll see you next week!