Remember the GOAT coffee mug? Way back in 2014, the innovative coffee cup garnered quite a bit of attention on Kickstarter, turning a $25,000 goal into nearly half a million dollars. So, what do you do after an impressive crowdfunding success? Keep on inventing of course! We caught up with CEO Anže Miklavec and Content Manager Dunja Kristan to see what 2017 has in store for the GOAT team.
"The history of our company actually goes back about five years." Anže explains,  "Our first product was a brand of water bottles called EQUA. That evolved into a coffee mug and started us on the road to the greatest discovery of all time – coffee! Now, we think of ourselves as coffee enthusiasts firsts, innovators second."
"After the launch of our GOAT mug, we knew we wanted to continue our coffee story. Two years later, we're back with GINA, the ultimate smart coffee instrument."
With one successful campaign under their belt already and an established coffee community behind them, it should come as no surprise that this second campaign smashed its pledge goal in less than eight hours. But what exactly is a 'smart coffee instrument?'
Well, it looks a little like a cross between a cafetiere and a conical flask, and is the ultimate gadget for all you coffee lovers out there. It talks to your smartphone (of course) and features a host of built-in devices to control the brew, strength, pour over, timing and just about every technical setting you need to achieve the perfect cup of coffee. For the novices among you, there are a variety of preset options to get you started on your coffee journey. Sold yet? We are!
With some serious coffee know-how and 24 months of experience running a successful business, why did these guys hit Kickstarter at all? Surely they could have found traditional investors to help them launch GINA?
"Making innovative products also comes with more risk," Says Dunja, "At first you are not sure if people even want your product. Crowdfunding is a wonderful way to decrease that risk to investors. The investors are actually your customers, so they believe in your product and are happy to support you. In exchange, we get to stay independent and can focus on innovating more and delivering what we promised, not what VCs and Angels think will generate the fastest return. Crowdfunding is a win-win."
We can't really argue with that! What made their second campaign so successful?
"A bit of everything!" Anže laughs, "GINA is a novelty on the coffee market – it's a multifunctional, smart coffee instrument – coffee enthusiasts haven't seen anything like it before. We worked very hard to display the product as well as possible, product presentation for something this innovative is very important.
"But we wouldn't have reached our goal without the support of our amazing GOAT community. The key to our success is a passion to understand our customers and communicate openly with them. That, in turn, creates an engaged community who are willing to share and support our campaign."
"One of the biggest advantages of a successful campaign is the two-way conversation that it establishes between you and your community." Anže continues, "Our supporters gave us a lot of ideas and suggestions on how to make our product even better. Thanks to them, we are more inspired than ever to continue exploring the coffee world and create amazing products for all of our supportive coffee lovers. We are also very happy to see that our GOAT community is growing bigger and bigger! We must be doing something right."
Any advice for other crowdfunders looking to emulate the GOAT team's success? "I would advise them to be creative, innovative and to put a lot of effort into product presentation." Says Dunja, "It is important to stand out. Constant communication with potential and existing backers is also crucial, but the hardest part comes after the campaign is finished – you have to deliver what you promised!"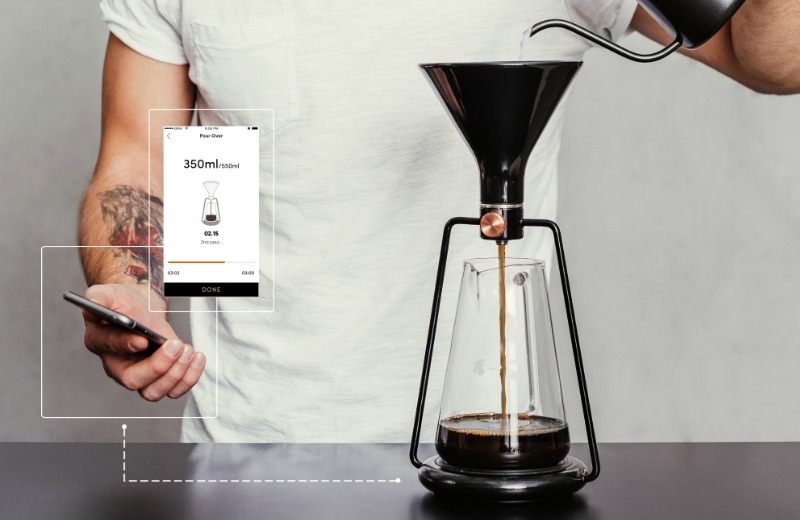 So, what does the future hold for the GOAT team and their caffeine-fueled quest for the perfect cup of coffee? "With every project, we fall more love with coffee. We have no choice – we'll continue to innovate and explore the field more. Eventually, we want to introduce more coffee products to our GOAT range but, for the moment, we are putting all our energy into perfecting GINA. We'll take the future step by step… and drink a lot of coffee along the way!"
If you want to kick your coffee habit up a gear in 2017, then GINA is the gadget for you. But you'd better hurry, coffee connoisseurs have got little time to get their hands on crowdfunding's latest must-have gadget.