For someone persistent enough to walk into the world of digital marketing, getting a grasp of the nuts and bolts of it before it all changes can be a tough game to handle. A quick search on Google just offers you information overload… too much to read… and so much of it is just plain wrong!
Take our Know-How toolkit as guidance and make sure you are not barking up the wrong tree.
Discover genius tools, target more interests in your FB ads, learn a strategy to raise brand awareness with FB groups, unlock the potential of Slack channels to get your product media coverage and much more in this week's Know-How suite.
FB ads: EngineScout.com.au to target more interests
FB ads: audiencebuilder.io to build the best target audience
SMM: Sharing posts in FB groups from product pages
PR: Nymeria LinkedIn Extract to get journalists' emails in bulk
PR: Slack Channels to develop partnerships with journalists
Email Marketing: Inserting GIFs in pitch emails to accomplish two things
We've got a lot to explore today.
Let's dive in!
Interest category to target more interests
By Astghik Azaryan
Determining a business's target audience through best working interests in Facebook Ads has become as common as making tea or coffee in the morning. But just because it's done by millions of people every day, doesn't mean it's done right.
More often than not, to figure out who your supporters are you have to test hundreds of variations of ads with dozens of target interests to find the ones that yield the optimum outcome. Here at The Crowdfunding Formula, we run such ads every day with our eyes toward possible hacks and tricks we can employ to maximize our results while investing less money and effort.
To make sure we all are on the same page, I'd like to give you a brief walk through the basics of ad creation on Facebook Ads Manager before I introduce the genius tool I stumbled upon this week. If you know this already, feel free to hop forward to here.
Facebook Ads Manager divides Ads creation into 3 levels:
1) Campaign
2) Ad set
3) Ad
1) Campaign
In this section, advertisers need to answer one critical question—what is their marketing objective.
Do you want to run ads to raise brand awareness, post engagement or get conversions? Maybe you want to drive more traffic to your website and collect subscribers?
This helps advertisers reflect on their main objective to run FB ads, laying a foundation for the subsequent stages of ad creation.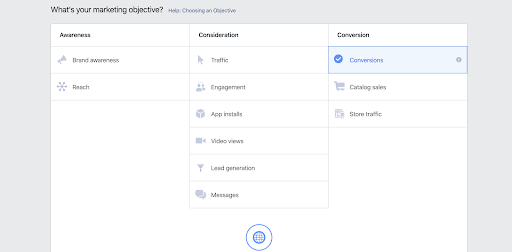 When you've already picked your objective, you also need to specify the budget. In Facebook Ads Manager we differentiate between two types of budget—daily and lifetime. The latter refers to the budget spent over a defined period of time (i.e. 7 days).
2) Ad Set
In this level, advertisers need to focus on the characteristics of their target audience—what is the location of people you want to target? What age and gender are they? What languages do they speak?
And finally what are the interests and/or behavior of our target audience?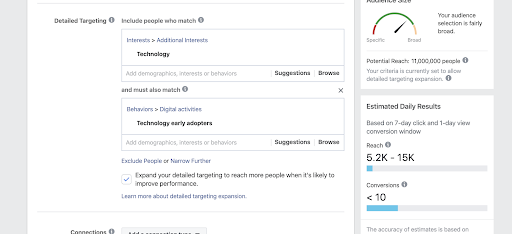 3) Ad
As you've figured out your target audience, you now have to think about how to grab their attention and make them click on your ad.
Get the creative juices to flow and come up with an appealing visual (or set of visuals) and catchy text that your target audience can't help but click. And this usually isn't as fancy as it sounds. You may want to A/B test several ads to see which combination of a text and visual works best.
Great advertisers also keep their eyes peeled to not miss the latest industry trends like Thunder Videos—which increased our conversation rate by 2.5 times last week—and create visuals their audience would be thrilled to watch.
Cool! Now as you got a grasp of the basics, let me quickly introduce you to a simple yet genius hack with interest targeting that tripled our recent conversion rates.
While testing interests, we enlist the help of tools to get variations on relevant interests to make sure every person matching our buying persona is in our target audience.
And this week I discovered the Facebook Ad Interest Hunter tool on Engine Scout.
All you need to do is enter your keyword in the search bar and the tool will generate relevant interests. The good thing about this tool is that it works with Facebook developers' API and gives 100% accurate information because it's outright FB, packaged in a nicer interface.
Let's search "facebook".
The results include but aren't limited to those 25 interests suggested by Facebook that appear in the "Detailed Targeting" section of the Facebook Ads Manager.
Ad Interest Hunter goes much further by showing all possible keyword variations, their audience sizes and broader categories/topics these interests belong to.
I use the results of the above keyword search to narrow down my audience's interest by topics:
Like it always happens, some of the ads didn't perform well enough.
But those which did perform well exceeded my expectations and increased every other coefficient, driving twice as much revenue, resulting in a ROAS above 3!
Now you know another ad hack to reach your target audience and significantly drive your ads revenue.
AudienceBuilder.io to build the best target audience
As I explored in a previous Know-How, in Facebook advertising we make use of various tools to discover related interests and run super-targeted ads.
EngineScout was one tool to help us scrape other interests related to ours.
This week I also found an audience builder that accomplishes the same thing with some added benefits.
With Audiencebuilder, you can search for various keywords and find related suggestions to those keywords. It provides a wide variety of interests that are carefully concealed in the Facebook Ads Managers' "Detailed Targeting" section.
Audiencebuilder also stands out in its user-friendliness, allowing you to narrow down your search to countries and define your audience size.
When you browse and find some new interests and want to know what exactly they mean, simply click on the Facebook and Google icons next to each interest and look up the necessary information.
Like myself, at first, you are probably picturing the hassle it takes to include all these interests in the Ads Set in FB Ads Manager. Worry not!
Audiencebuilder gives you the opportunity to quickly integrate all the interests you've found directly into the Ads Set!
Sharing posts in FB groups from Product Page
By Mushegh Hakobyan
To generate some brand awareness and gain more followers, we often share our campaign posts in relevant Facebook groups.
But what we usually get out of this is just one-time, bare post engagement (i.e. likes, comments, and shares) and reach—with little or no prospect of building brand awareness, let alone generating conversions.
I came up with a little hack to level up this strategy and gain more tangible results.
When someone writes a comment under our posts in groups, we usually reply to it from our personal Facebook accounts and not from our pages. As a result, people engage with us instead of our brand.
Want to see how we use the product page to share posts on FB groups?
1. People will engage with the brand as the brand is the one that clarifies their inquiries and builds a community around it.
2. We can also invite all the users who've interacted with our post to like our page and raise the number of our followers which, even at a purely psychological level, signals credibility and trust to any newcomer.
If you decide to take this path, make sure to avoid using the same description and visual in every single FB group you plan to post. Otherwise, chances are your page will be deemed as Spammy by Facebook.
To spur post engagement, make sure to include a question in the description, that prompts people to comment and answer.
The only pitfall of this strategy is that group admins may not allow pages to join their groups. Also, please note that pages can only request to join groups and can't be invited by its members.
Nymeria Linked Extract to get journalists' emails in bulk
By Mary Baboyan
Nymeria is one of our favorite tools at The Crowdfunding Formula. It easily provides an email address from anyone's LinkedIn account through a simple click on the extension icon.
Now Nymeria has a new automation tool that allows us to easily extract all profiles from a search result page and quickly look up the emails for all profiles. All you have to do is provide the LinkedIn profile URLs and the tool will automatically start extracting the email address of each.
Another reason why we love Nymeria is that it provides email addresses with very high accuracy in an affordable price range.
Slack Channels to develop partnerships with journalists
Besides being a great tool to keep the communication flow in the workplace, Slack is also a great solution for those seeking to build new connections with professionals in their spheres through Slack channels and communities.
As a Digital PR expert, I always need to stay on top of the latest PR trends and make ties with journalists. Slack communities are one of the best ways to achieve this.
And to free yourself of the hassle of searching for Slack channels relevant to your work, I'd like to introduce you to slofile.com, a Slack community database with over 1,300 channels.
All you need to do is search for the topic you are interested in, find the channels you want to be part of and join them.
The example below shows a channel called World of Writers, a Slack community of writers, editors, and bloggers with 547 members who can easily become your partners in the future. To join, just enter your email address in the box or follow the link below.
This community has 11 public channels ranging from "copywriters" and "freelance-bloggers" to "contributors" and a dedicated section named "looking-for-work" to help job-seekers.
Once your request is approved you can start connecting with people you share similar interests with.
Happy networking!
Inserting GIFs in pitch emails to accomplish two things
Journalists are bombarded with a striking number of pitches each day. In this fierce competition for coverage, you really need to get creative to stand out in the crowd and be among the lucky ones to earn the journalist's attention first.
This time we tried a new tactic—inserting a GIF in the pitch email. But this wasn't just meant to jazz up what may seem a boring text wall at first glance (I'll talk about writing compelling pitches some other time).
First of all, it was meant to show the product in real life—in this example, it's the Christmas card. Another purpose the GIF strove to accomplish was to introduce the person sending the email and develop some personal touch with the recipient, i.e. the journalist.
While in this case, only our PR guru Serine's face is visible in the GIF, there may also be cases when you want to fully appear in the GIF. Don't get lazy and shoot a profile picture for the email with the same outfit you've shot the GIF with, so the recipient will immediately figure out that it's you.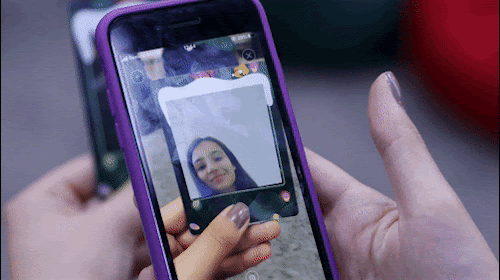 You may be thinking we are getting too caught up in details. But remember small details like this one can make all the difference.
—————————————-
This was the last tactic in this week's know-how bundle.
Do you think you'll apply these strategies and tools to hit your next ambitious milestone?
Give us some feedback in the comments below, let us know what you like and what you don't. It motivates us even more to create in-depth marketing content like this one!
And in case you're craving more, and can't wait until our next know-how blogpost rolls out, check out our latest article on ManyChat Integrations and more.