First and foremost, the main goal of this article is to introduce a couple of working ideas that help to sell and raise e-commerce conversion rates through Facebook marketing partners.
It's an extremely underrated marketing and sales channel because people don't see past the simple Facebook ads for some reason.
But there is so much more you can do on Facebook to raise money for your campaign and drive targeted traffic to your landing page. Landing pages can easily be created with the help of landing page builders.
Sometimes I look at the number of existing Facebook pages and can't help thinking about how to get profit from them. There are over 60 million active Facebook pages, and 6 million of them are also actively advertising.
But before you use all this potential, there are a couple of things you need to consider, otherwise, your advertising strategy with Facebook pages will fail, and your marketing budget will go to waste.
In this article, I'll try to stress the most important issues so you can avoid the biggest mistakes while dealing with Facebook marketing partners and make the best use out of them.
So let's take a quick look at some of the disadvantages that exist on Facebook to get those out of the way first.
Facebook algorithm deliberately de-emphasizes updates from business pages in users' news feed.
A lot of people thought that a brand's organic reach, which had already been turned down by Facebook algorithms would become a thing of the past on Facebook.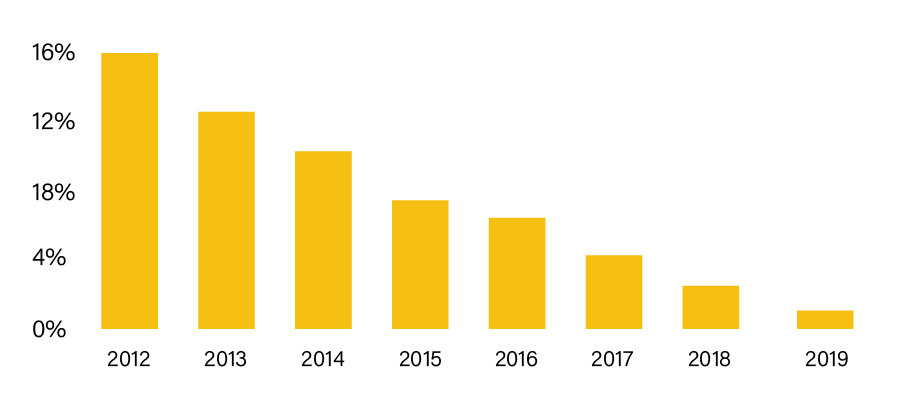 This huge problem pushed brands to find other solutions for marketing partnerships on Facebook.
It's very important to know how to assess the relevance of a Facebook page. There are a couple of aspects you need to pay attention to. Think of the following:
Does your product suit the partner page's content?
Sometimes the number of followers means nothing. There are a bunch of big Facebook pages with a dead engagement rate.
Evaluate the service and the price asked for it before you take the risk of working with that page. You can spend thousands of dollars without even returning half of your initial investment – and that is precisely what we don't want.
Here are some tactics I always use to have good results with Facebook marketing partners and avoid failures.
1. Find Facebook pages with a decent engagement rate within your product's niche
There are millions of great Facebook pages that do not charge rates as high as Mt Everest. Partner page pricing typically varies greatly and depends on:
The number of followers and fans the Facebook page has
The amount of engagement their posts generally receive
The fit of the advertisement with their brand and followers' base
The number of posts you want to have
The type of post (image, video, etc.)
The amount of effort needed from the Facebook marketing partner (do you provide the image/video or do they make it themselves?)
There are some tools that I find extremely useful for estimating the partner page's engagement rate.
I personally use Likealyzer. This provides insights about the average number of video views although its downside is that it doesn't give you insights on the geolocation of the audience.
If you need this information, you can simply ask the page admin to send you audience insights from his ads manager.
Another great way to estimate page relevance is the Facebook Ads Manager itself. If you try to look for pages through interests on the Ads manager, Facebook will show you the most relevant pages to partner up with because it will recommend pages with audiences interested in the keywords you used to do your search.
2. Long-term partnership vs. one-time collaboration
Dipping into the world of Facebook marketing partners will result in long-term success for your projects only if you establish strategic partnerships with those partner as opposed to doing a one-time collaboration.
If you have active campaigns and promotions, it's more beneficial to establish long-term relationships with partner pages so you can always use their page to do promotions. In return, they have one less post idea to plan for and can always count to have high-quality, relevant content that will interest their audience.
The credibility of your product and you as a partner will increase in the eyes of the Facebook page partner and their audience. This way, you get to increase conversion rates, the page gets a consistent post, the audience is engaged, and everyone is happy.
3. Use the 'Branded Content' tag
This particular boost option allows brands to increase the reach of the content posted by a partner page.
Brands can target a specific audience and the audience will see the post as originating from the Facebook page, not the brand itself.
You'd be surprised, but this makes a total of 16-20% change in the conversion rates.
4. Get temporary advertiser role on pages
Referring to the 2nd point, building long-term partnerships with Facebook marketing partners means you get to ask for temporary advertiser access on their page. Honestly, you can get away with asking for this access even during one-time collaborations, but I prefer the long-term method because it usually means they'll give you uninterrupted access, which is always good for you.
You'll be able to use their audience to target and advertise your posts made on their pages.
Here are two very easy steps which guide you to get the advertiser role: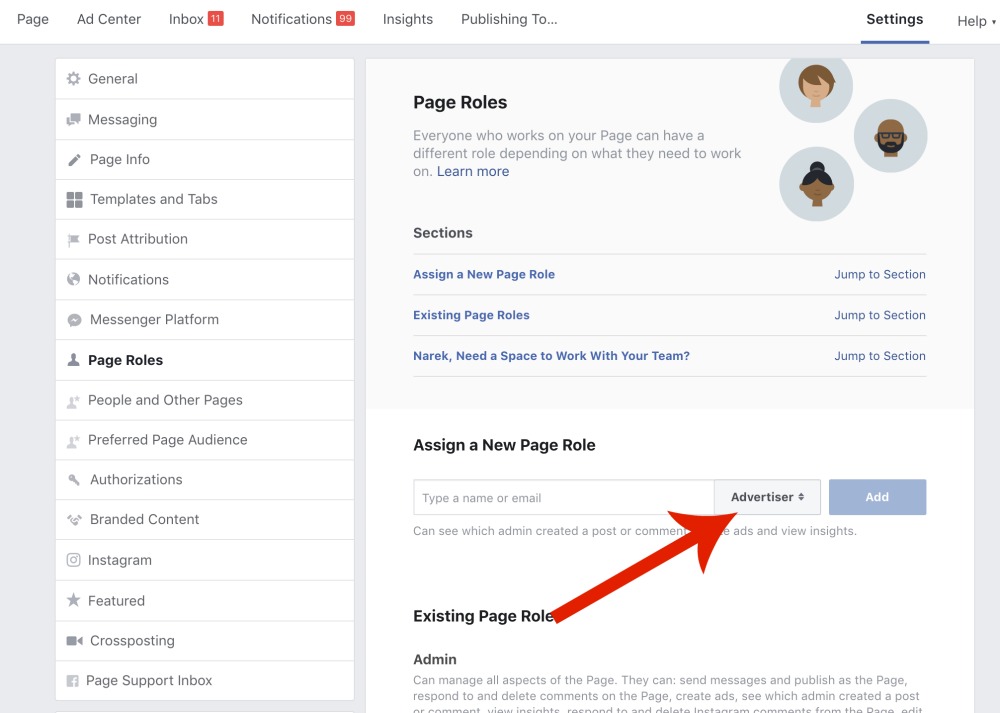 5. Give quality, receive quantity
Facebook pages with high-quality, organic engagement have high rates for any type of collaboration – especially promotional. Usually, if you don't have hundreds or thousands of dollars, you can kiss goodbye to having your product promoted by larger Facebook pages.
But what's good about those large pages is the fact they also appreciate high-quality content to provide for their audience. So if you think your product is highly relevant for their followers and you have great negotiation skills, you have more than good chances of getting through the biggest of Facebook pages with an almost non-existent budget. Trust me on this. As a result, you'll get tons of views and engagement on your promotion. Quality can result in quantity if executed properly.
Take a look at this collaboration between me and MetDaan – totally free, only affiliate, tons of conversions, and a long-lasting partnership.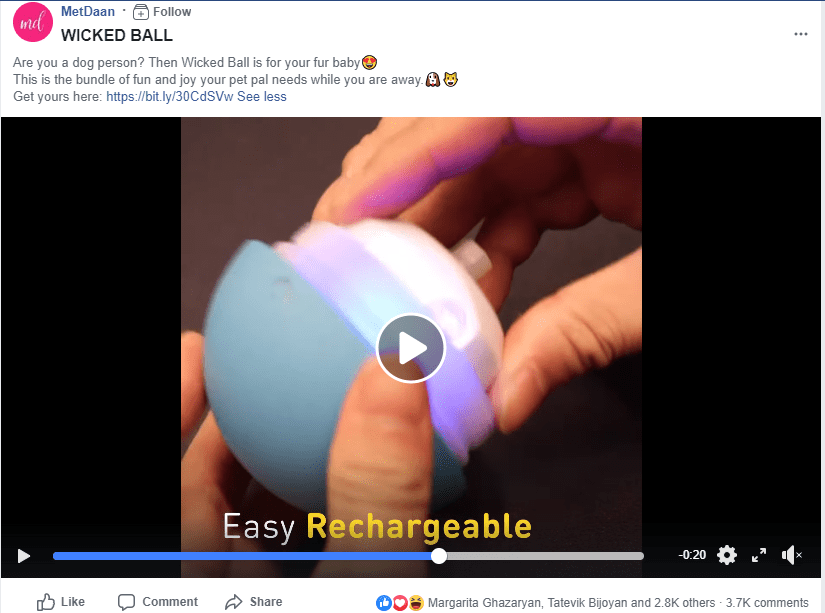 And finally, don't underestimate the power of audience relevancy! Here, we just need to find Niche facebook page relevant to our campaign, and here you go! One bright example from our recent project – Zucklight – can be our partners at Decor Home Ideas. Who else to speak on Zucklight – if not a page on interior and lifestyle!
In conclusion
Facebook marketing partners are one of the best ways to drive targeted traffic to your crowdfunding campaign page and gain conversions.
Don't let anyone tell you otherwise.