A great shift happened when the world shifted its focus on digital marketing and advertising. One which direct mail advertisers had been trying to convince the advertising world of for years — data matters!
You can instantly see the results of everything you do. From your newsletter's open rates, to the performance of your landing page copy, to the CTR of your ads. But in a sense, we're drowned in all the data and have forgotten the bigger picture.
"Do people care about my brand?"
Throw a wide enough net with a good message, and sure, you'll get conversions. But do your leads actually know who you are? Do they remember you?
This week, our Ads Pro Astghik breaks down a cool feature by Facebook that allows you to analyze the state of your brand on Facebook. Beyond the typical metrics. And get to the core of what people think about you.
On top of this, we'll also show you how to turn your ManyChat subscribers into leads you can call, how to avoid screwing up your ad visuals on Facebook, and a neat hack that lets you pre-record your Facebook LIVE streams — for all of you with a little stage/camera fright!
Strap in!
Brand Awareness: Do people remember your brand on Facebook?
ManyChat: Turn ManyChat subscribers into conversions by calling them in person
Facebook Ads: Never make another Facebook Ad blunder by mocking it up first
Facebook SMM: How To Live Stream Pre Recorded Videos on Facebook
Do people remember your brand on Facebook?
Facebook's brand lift experiment testing helps measure the effectiveness of ads based on users' feedback for the ad campaign.
And no, it has nothing to do with ad engagement, any metrics like the number of clicks, and doesn't matter how many times the ad post was shared or commented… it doesn't even count the page ranking you are running ads with!
Understand? No?
Well, now you've understood what it is definitely NOT, let's go over what it is, and how it measures the success of your ads according to your audience.
The brand lift test is a great way of assessing the impact of your advertising on your brand awareness. Do people know about you? Do they like you? Do they want to interact and buy from you?
And it's pretty straight-forward. All Facebook does is split your audience into control and test groups, and see the results of your advertising over time. It asks your audiences 5 poll questions, that are all focused on testing ad recall, brand awareness, and whether your audience associates the message with you.
Awesome! Well, not completely — not all accounts are eligible to run this experiment.
To see if you can, go to Business Tools, scroll down and find the Experiments section:
Under the Experiments section, you will find Tests and Results.
Under the Tests section, you'll find all available tests you are eligible to run: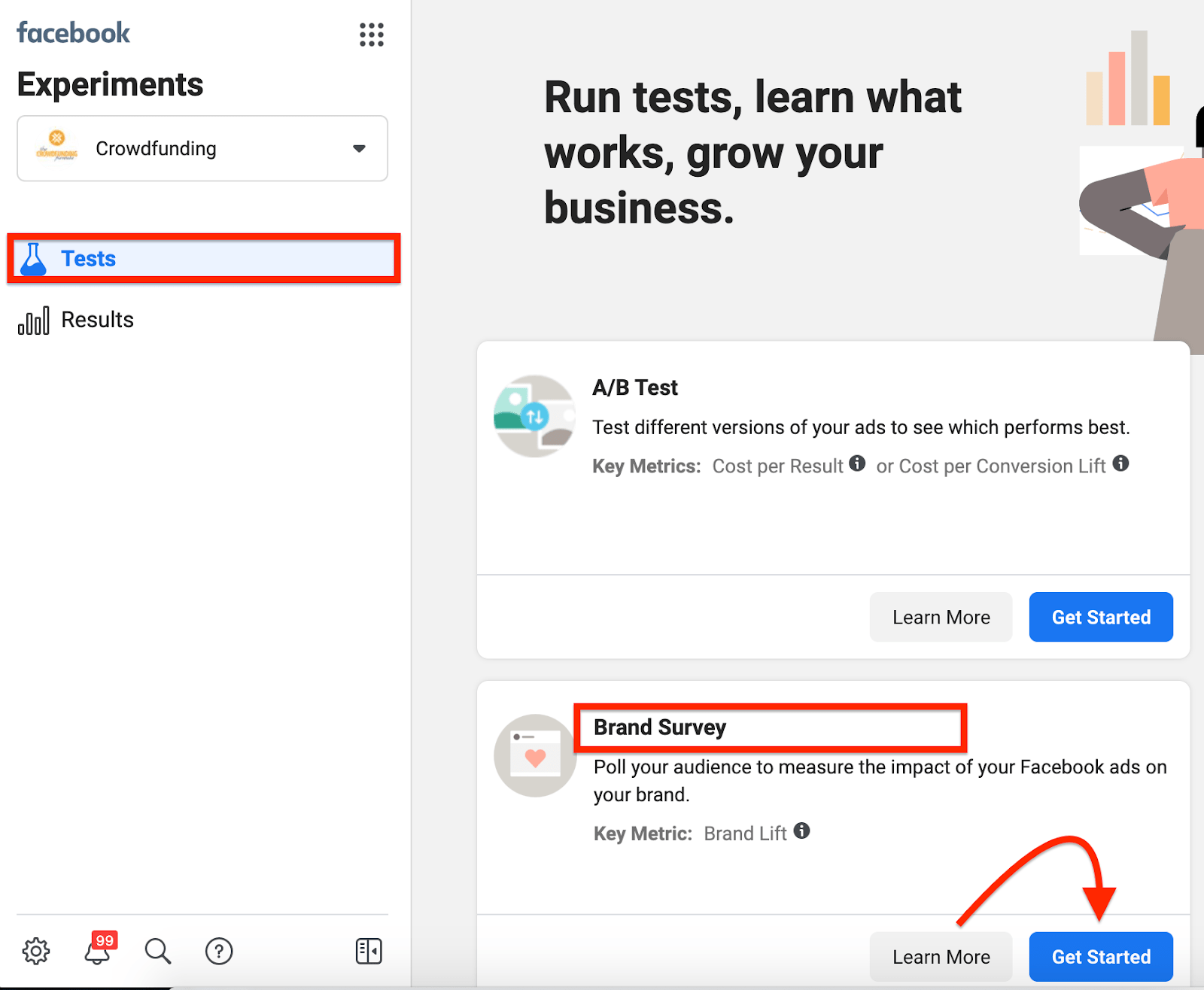 Want me to run you through an example?
Let's get started with Brand Survey, aka the brand lift experiment. Just hit the button shown above and let's go do this.
Pick either an Ad account, a campaign group, or a specific campaign on which to run your test…
Then select what account you're running the test on…
The page…
The region…
And the schedule.
I chose our The Crowdfunding Formula Ad account, one of our ads' pages, a bunch of other options you can see below… and scheduled it for 2 weeks:
Design your own poll, and check it out before you post it:
FB also offers a couple of tips on what you can do to improve your results:
Your test should run for at least 14 days
Your total account budget should be greater than $30,000 USD for your test duration
Your creative should contain your brand name or logo
Your campaigns' audience should include people older than 18, because Facebook doesn't survey people under 18 years of age
So, take the guessing out of your ads strategy!
This is the perfect solution for any agency or advertiser out there who really wants to measure how impactful their ads are, and how easily their brand or product is remembered by their audience.
Turn ManyChat subscribers into conversions by calling them in person
ManyChat subscribers are the main traffic source for our Sales department. We throw a wide net out and bring as much traffic as we can to this one tool.
Why?
Because chances are higher that we'll be able to convert this traffic into buying customers by engaging them directly through this chat bot. Broadcasts, one-on-one sales, and always staying in touch with the community, are just some of the many things ManyChat offers. And recently, we discovered an even better use for this multifaceted tool!
You see, it's very important to warm your subscribers up in the right way, implementing different strategies for different kinds of people to turn them into real customers and make a sale. Some people prefer the asynchronocity and anonimity of online chats, but others prefer direct human interaction.
And we discovered a way to engage our subscribers directly — by inviting them to personal calls where we can answer all their questions!
We implemented this strategy for the first time on our PomaBrush campaign.
This is how we did it, and the results we got:
Set up a Calendly for your product, and let people schedule their preferred time for the call.
Then create a powerful and concise broadcast message. Ours looked like this:
Check out the results above the post!
We reached out to 244 subscribers, and had a 93% open rate — who said email marketing was the strongest tool? — and a click rate of 11%. In the end, we took 9 calls and got 3 conversions.
So just remember, think about your audience, approach them right, and consider the best way to warm them up!
Never make another Facebook Ad blunder by mocking it up first
We all know how important ad visuals are and how big a role they have in attracting new customers/backers. But when you consider the wide range of placements Facebook offers, it only stands to reason that the appearance of our ad in different places might not always be appealing… you'll often see wrongly fitting image/video ratios, or discover the text and headline don't work in a certain order!
Mockups allow us to view and optimize our ad's appearance in all placements, side by side. And only once you're 100% ready, use your best combinations to create your ad.
To start, click "Business Tools" (the non-descript 9 dots and a bar) and select "Creative Hub".
If you've never used this tool before, most probably what you will see is this:
Note: You can invite collaborators to work on mockups without them having access to your Ads Manager.
Click "Create Mockup" to start experimenting with your placement.
Here you are free to edit the specific placements you want. Once you're done, activate the "Show in Ads Manager" button in the upper-right corner.
After doing this process once, you'll have unlocked this awesome feature everywhere else! Now, everytime you create a new ad, you'll see "Use Creative Hub Mockup" below the ad:
Select it and you'll be able to play around with your placement just like we did above:
You'll also find any mockups you create here, ready to be published.
Note: Some call-to-action buttons available in Creative Hub are not available in Ads Manager. If you select those, they'll be changed to one of the default ones automatically. But you can change it back in the ads manager. 
There is a high chance that someday you'll receive a "kiss" from Facebook in the form of an ad rejection — hey, there's worse ways I could call it, but I love my job!
Instead of swearing at your PC, try recreating the same "rejected" combination — after re-checking and being sure that you are not violating the policy — as a mockup, and turning it on again from there.
Having all your creative combinations ready will help prevent mistakes while allowing you to concentrate more on targeting part of ad creation.
How To Live Stream Pre-Recorded Videos on Facebook
LIVE streams on social media often get more engagement than regular posts. Why? Besides the psychological element of immediacy — people want to participate, comment, get answers to their questions, and be a part of a real, unique event — social media platforms promote LIVE streams in another way.
On Facebook, every follower gets a notification that you are LIVE. On Instagram, your logo appears in first place in your followers' story queues. On YouTube, your subscribers get a notification and it appears on their feed.
With a regular post, not all of your followers will see it on their newsfeed — but during a LIVE stream everyone gets a notification. And that's the perfect way to grab their attention and give them valuable information.
Scared? Don't be! That doesn't mean you need to endure the stress of rehearsing and performing LIVE in front of your audience.
I'm going to show you how to go LIVE with your pre-recorded videos on OBS Studio — a light recording and broadcasting platform.
After installing and opening OBS Studio, go to your Facebook page and click the LIVE button. Go to Stream Setup, and copy the Stream Key that Facebook — as well as Instagram — provide.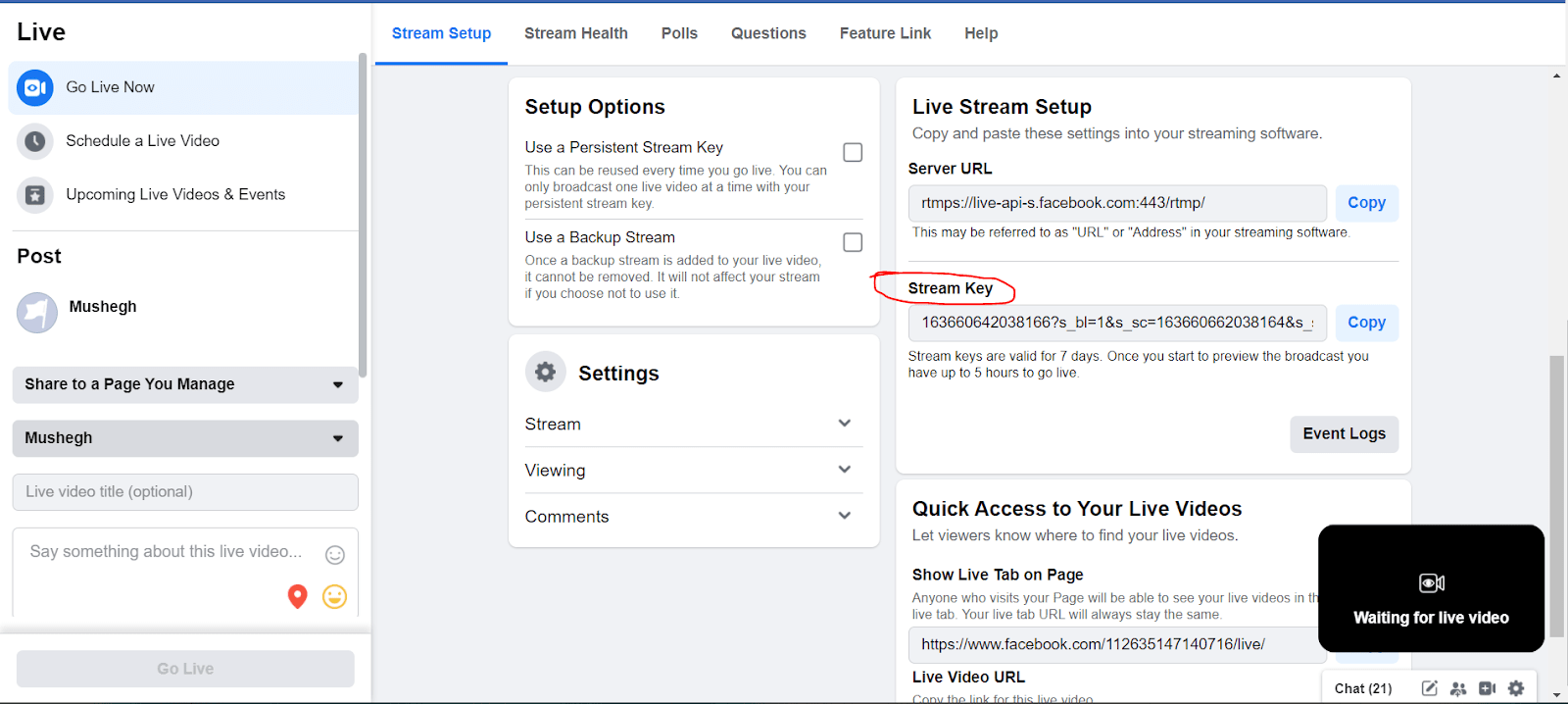 In OBS Studio, go to Settings > Stream, and paste in the Stream Key you just copied.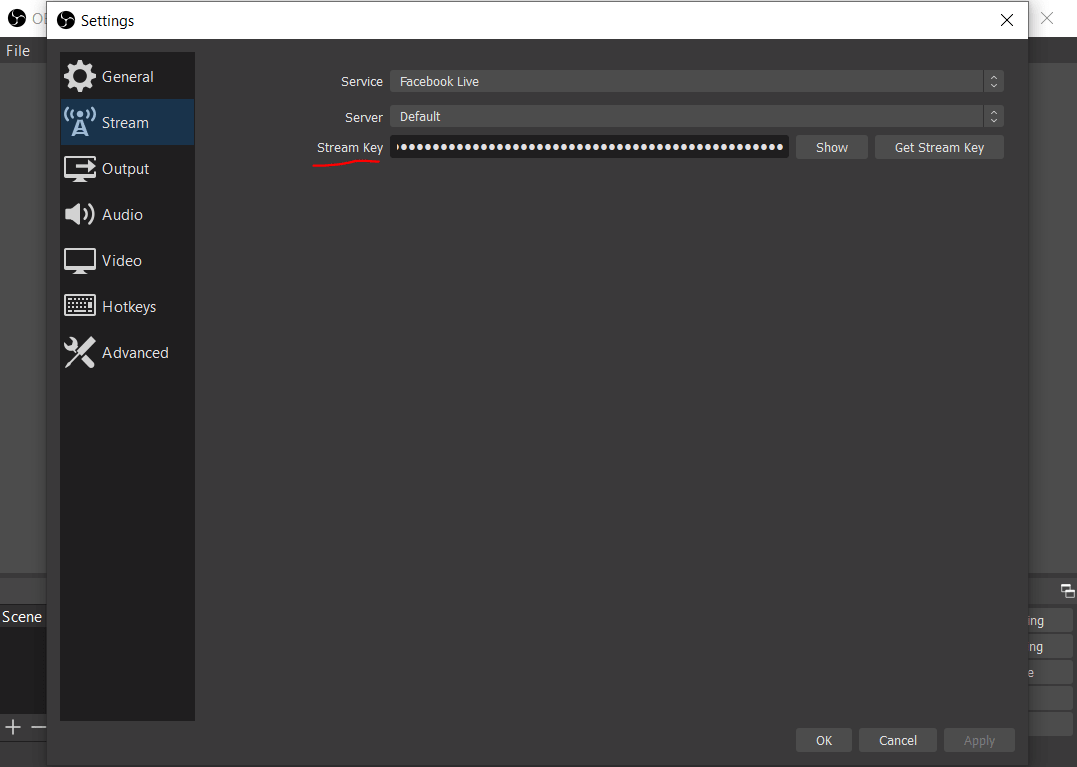 Choose your video, adjust its resolution, mute your microphone, and turn the video sound on. You can do all these from the "Audio Mixer" box under the video.
Then just click "Start Streaming".
The video will appear in your Facebook LIVE stream page. Add a title, caption and you are good to go. Click go LIVE and watch the comments.
Just remember that after the video ends the LIVE will continue without it, so make sure you're following along, and be sure to stop streaming when the video ends.
—————————
I bet you're aching to see whether all your ad efforts are paying off. Make sure you check to see if people are aware of and remembering your brand. Do they?
What about your hottest leads? Have you found them yet? It's as easy as narrowing your audience down to Registration Completed, and targeting them to finish off the sale!
Calling customers can be a nuisance for some, but it's a powerful tool in a salesperson's arsenal. Next time you're trying to engage your leads, think about engaging them in direct conversation via a call.
And of course… the Facebook LIVE hack. If you're stressing out about your next event, stop. And remember you can record and edit to your heart's content!
What's your biggest issue as a digital marketer? How did you overcome it? Let us know in the comments below!
This much for this week, fellas! See you soon.
And before you leave, don't forget to check out our previous Know How: The Subtle Art of Negotiations!