What do we know about crowdfunding?
Those crafting crowdfunding strategies and running campaigns to raise money would tell you that it's tough.
We at The Crowdfunding Formula know it like no one else.
Over the last 3 years, we've raised 13 $1M+ campaigns.
And as experienced crowdfunders, we know that a million-dollar campaign comes at a cost of at least 150,000 dollars.
Yeap, not a cheap thrill.
With regards to all marketing activities and paid promotions of Kickstarter and Indiegogo campaigns (ads, influencer marketing, SMM, etc.), the direct ROI ratio is around 3-5x the return from the total investment.
And that's the best case scenario.
This means that in order to raise $150K you need to spend $50K.
These are averages. You might be lucky and get higher ROI, but we are talking statistics here.
Tough, huh?
In this article, you'll learn a Kickstarter marketing strategy on how to raise funds for your crowdfunding campaign with a $0 marketing budget.
And the crossprom.com  tool that will help you with this mission.
Did you know there is a Kickstarter strategy that can raise you $50,000 without spending a penny?
What if I told you there is an underutilized crowdfunding strategy which is a goldmine for all campaigners?
What if I told you you can bring yet another $25K, $40K and $50K to your campaign without any marketing budget?
You might think this is something straight from fantasy.
It's too good to be true.
Well, what can I say?
It's true.
Read all the way through and you'll find all the proof.
But here's what's interesting.
Even experienced crowdfunders and specialized agencies don't know or don't pay enough attention to this free Kickstarter promotion.
The channel I'm talking about is CROSS-PROMOTION.
And it's a good time to explore its potential. Together.
So… What are cross-promotions?
Well, the name says it all.
It's the form of Kickstarter marketing strategy where two crowdfunding campaigns promote each other in front of their backers.
So, the 2 main things to know about cross-promos:
It involves two campaigns
It's always a reciprocal process (I share you and you share me).
Why are cross-promotions one of the most efficient promotion channels?
Crowdfunding campaigns work with backers' audiences.
Finding the right backers' audiences is time-consuming and sometimes very exhausting work.
And guess what.
Cross-promotions are the only crowdfunding channel that works directly with backer audiences.
This means that you are one step ahead in your efforts to increase your backer community and campaign funds.
How are cross-promotions done technically?
Typically cross-promos are done within campaign updates that creators share with their backers.
All the posted campaign updates are going right to backer inboxes.
The delivery and open rates of these emails are incredibly high.
So cross-promotions are a sort of email marketing. A very efficient one.
See how they look like:
How efficient could cross-promotions be?
Remember I was speaking about adding yet another $25K to your campaign funds.
I was not joking.
Want proof? Here it is:
In less than 2 weeks the  Winston  team managed to raise nearly $25K and established a firm ground for their million-dollar campaign.
Take a closer look.
Cross-promos are in 5th place(5th!!!) for the converted traffic on the page.
Let's move on. I'm gonna surprise you even more.
How about a $30K+ top-up with cross-promotions?
Yep, also possible. Check it out:
This is the screenshot from the next million-dollar campaign  UVMask.
But we are not done yet!
How about 50K?
Yep, totally doable.
See:
Cross-promotions for the Pico campaign were one of the best working channels.
Not to mention that Pico is of course a million-dollar campaign.
You see the correlation right?
Let's talk numbers
The average conversion rate for cross-promotions varies from 2 to 8%.
However your this rate can be as high as 11% (11, Carl!) if you do it right.
Check it out:

How often do you see an 11% conversion rate on your page from advertising?
Rhetorical question, of course.
This is why cross-promotions are a goldmine for every Kickstarter campaigner.
But why campaigners don't utilize this channel to its full potential?
Reason 1: Not knowing about cross-promotions as a traffic source
Most of the campaigners are newcomers to Kickstarter. To be aware of cross-promotions, you need to stick around for some time to get some knowledge of it.
Reason 2: Avoiding posting updates, to not trigger massive refunds
Sometimes backers make pledges for campaigns and forget about it, especially since Kickstarter doesn't charge cards upfront.
And often updates can provoke massive refunds.
Reason 3: Avoiding spamming the campaign backers with promotional stuff
Some campaigners are firm believers that by cross-promoting, they'll be spamming their backers with promotions they don't want to learn about.
Reason 4: Hustling for cross-promotions isn't worth the efforts
Arranging cross-promotions is quite a hassle, that's true. You need to find your perfect match, reach out, follow up, agree on the date and time, materials, compile all cross-promo information and post, follow up with your partners to make sure they'll post you.
Unveiling myths around backers, updates, cross-promotions …
Updates are for good! (if done right)
Ok, let's admit it.
Updates do trigger refunds.
BUT…
Only in case you share some unrelated stuff on how you spent last evening in your backyard.
You got the idea right?
Updates are the main communication channel between you and your backers.
They are the main 'official' and reliable source of information about the project they believed in and invested in.
Keeping constant communication with your backers helps build relationships based on transparency, trust, and support.
Your loyal backers are your brand's best ambassadors.
So unless you don't share with them something that truly matters to them, you should not be freaked out about refunds.
Relax and sip your coffee.
Cross-promotions are not spam for backers!
Kickstarter is a huge and supportive community of campaigners and backers.
This is a community where fellow creators are ready to share each other to boost their campaigns.
This is a place where backers are coming to support campaigners to bring their ideas to life and to find something new and cool.
Thus cross-promotions are the convention for all Kickstarter community members.
And cross-promotions are about the campaigners as much as about their backers.
By cross-promoting, you are tripling the benefit. To you, your partner campaign, and your backer communities!
Here's how:
Cross-promote with max 3 campaigns.
Know your backers' preferences and share projects that would be of interest to them.
More than 3 cross-promos per update might be perceived as spamming, which can bring to cancellation of pledges.
For your fellow creator the main benefits are traffic and conversion.
Posting more than 3 campaigns decreases the chances of the latter ones to get any kind of traffic and conversions.
Cross-promotions are a hassle? Not anymore!
There were times when we were doing all cross-promotions manually.
Yes, we were searching our matches in Kickstarter and Indiegogo manually.
Outreaching manually through Kickstarter native chat.
Or even contact hunting to find the decision makers.
Negotiating about the date and the place to be posted.
Gathering cross-promotion information to post.
And yes, that was a lot of hassle for campaigners to do it systematically.
BUT…
All this hassle was BC.
Before Crossprom.
Crossprom.com
Now when we know that systematic cross-promotions are something you've been missing during your campaign, let me introduce you to the tool we've all been missing for your Kickstarter campaigns' cross-promotions.
Why use Crossprom?
The platform offers solutions to the problems we previously had::
1. Easy, best-match search by 2 criteria: the relevancy of the campaign and the number of backers.
No need to manually trawl Kickstarter in search of relevant campaigns to cross-promote with.
2. Simplified cross-promotions set up
All you need to do is to apply for a free spot in the update date set for your partner and get accepted.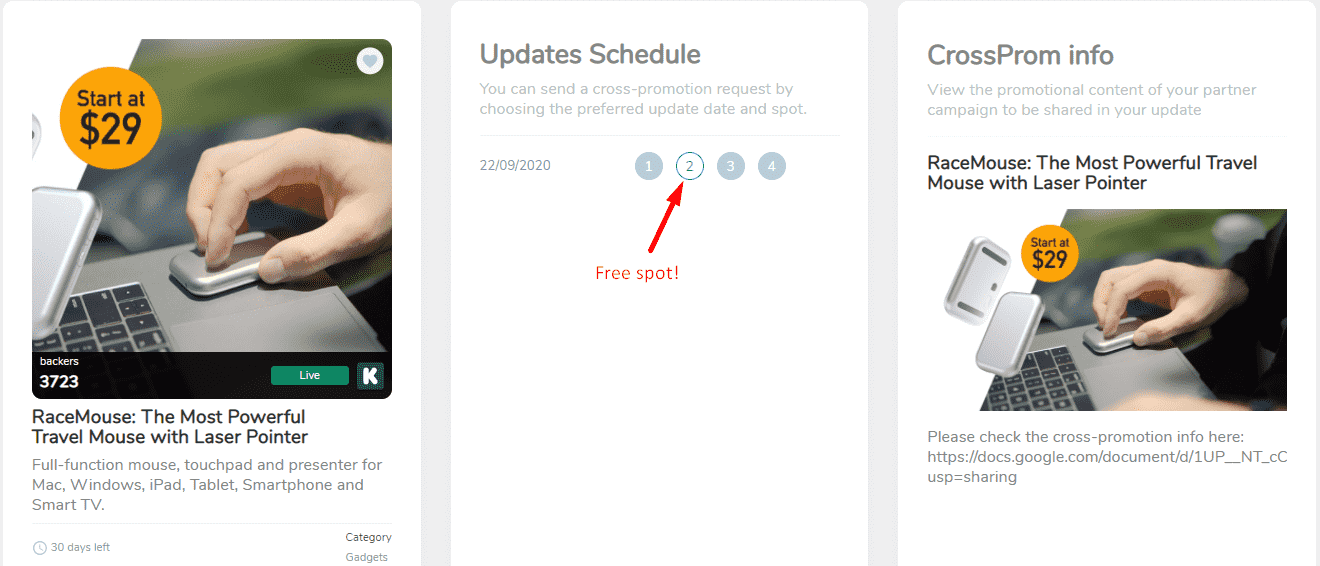 This way you know for sure when you'll be posted and your place in the update newsletter.
No more going back and forth emailing over the date and spot.
Everything is straightforward and simple.
3. Cross-promotions management from a single dashboard
All your received and sent cross-promotions could be reviewed within the single dashboard.
You can accept/decline received cross-promotions and have them all ready with just a couple of clicks.
4. Automatic results tracking
Yet another feature that makes life easier. The platform automatically created unique links for every cross-promotion agreement reached.
You can track the results of every single cross-promotion and use it in your future marketing efforts.
This is how it looks like on Google Analytics:

5. Visitors retargeting
With the cprm.me retarget tool that the platform uses, you can embed your Facebook pixel and create new retargeting audiences from the visitors coming to your Kickstarter page.
This is a big deal for all Kickstarter campaigns, as the platform is not very marketing friendly.
And this feature comes very handy.
6. Easy updates posting
Have all the information to be posted, gathered in one place. All you need to do is to copy and paste the info in your updates editor.
Key Takeaways
Want to raise $50000 for your campaign with no marketing budget? Do cross-promotions! Systematically and planned!
Do cross-promotions right and you'll triple the benefit for your campaign, your partners and your backers community
Use crossprom.com platform to streamline your cross-promotions campaign and help your ads team with new audiences.
Take the first step towards your $1M+ Campaign now! Apply here.