Hey Know-Howers!
Welcome to another week of loud know-hows.
Wondering why loud? Well, because after you read this article, you'll learn how to use your voice (literally and figuratively) way better for your marketing purposes.
In particular, this week's "wisdom" is about the interactive hack of holding a Q&A session on your Facebook business page, using your voice to get your text typed on Google docs, as well as boosting your sales by organizing joint giveaways with other similar products.
On top of it, you'll learn about a new tool to make your product look simply irresistible with 3D posts appearing on your socials and ads, and a very cool idea on how to make the most out of your main video by gamifying it.
Can't wait to dive yourself in the wisdom?
We can't either.
Let's jump in!
Facebook: Hosting a Q&A on your Facebook business page
Voice typing: Get your work on Google docs done in minutes
Cross proms: Boosting your sales and building network by joint giveaway
SMM: Make your page irresistible by using breakout clips
Campaign page: Adding interactivity to your main video for best results
Hosting a Q&A on your Facebook business page
Who doesn't like getting direct answers to their questions?
When it comes to getting feedback from your audience, answering all their questions and learning what they want to hear from you, there's no better way than Q&A sessions.
But until recently this feature was available only for Facebook groups.
And then…eureka!
It suddenly occurred to Mark Zuckerburg that things could be changed for even the better.
Now you can host a Q&A session on your business page and bring in some interactivity there too. Hallelujah!
And the coolest part?
As a page owner you don' t have to use many resources to host the session.
Facebook provides everything you need—a cool design that is not only catchy for your audience but also easy to check for you.
To host a Q&A session, all you need is to follow the 3 simple steps below:
Go to your Facebook page
Click 'Create a Post'
Choose "Host Q&A session"
Click on it and choose your favorite background color from the wide range of options.
Now it's time to put your caption: Here's where you invite your followers to start flooding you with questions.
Once the session starts, the questions will appear in the comments at the top of the window. And as you answer them Facebook will automatically create a beautiful swipeable post showing all the questions and answers for everyone to easily check out.
Congrats! You're ready for your first Q&A session (or should I say reunion with your backers and prospects?) on your page.
Go connect with your page audience, pump them up and get people excited about your product.
Voice typing: Get your work on Google docs done in minutes
If you're like me and are used to taking notes, creating drafts, collecting all your ideas and then only writing your content then this know-how is for you.
But typing takes so much time…
What if you could avoid the hassle by simply dictating what you want to write?
Well, we're not reinventing the wheel: there are hundreds of voice typing extensions and apps out there to turn you from a computer "pianist" into a text "singer".
But did you know you don't need any of them when working on Google Docs?
Yes, yes, you heard it right—Google Docs already has this built-in speech-to-text function, meaning you can voice type right on your Google document.
In fact, Google Docs uses the most popular and biggest word processor—the Google word processor—something that sets it apart from other voice typing tools and extensions.
Here are a few cool benefits you'll enjoy when using Google Docs' voice typing:
Dictate any word! Google knows them all.
Dictate lists, punctuation, formatting and editing
Use it for dictating not only in English but also in other languages
Save huge time
Increase your productivity
Get better writing experience
To use this function, you only need to have an active microphone on your device and use your Chrome browser.
Now you can activate voice typing following a few simple steps:
Choose Tools (from the admin panel).
From the drop-down menu choose Voice typing.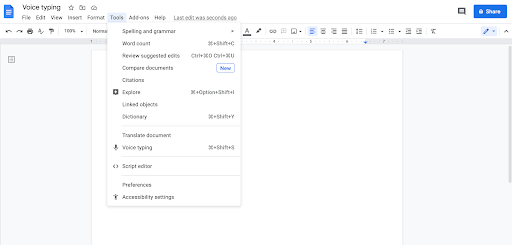 Choose Click to Speak under the microphone sign in the left corner.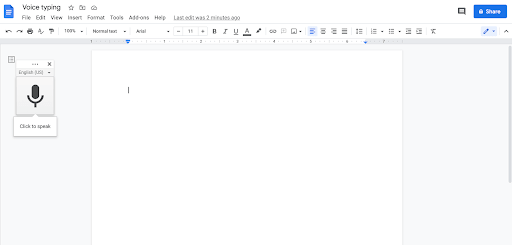 You're there. Just start dictating.
Use your voice and make yourself heard on your documents before your hands know what getting tired is!
You can also use Google CRM to manage everything on one platform.
Boosting your sales and building network by joint giveaway
We all know giveaway is a great strategy for generating leads.
To win your product, your backers and prospects follow certain rules, liking your page and sharing your post with their friends on social media.
But what if you add a cross-promotion element to one of the steps of your rules, asking people to like and share not only your post but also those of other products?
The idea is to have joint giveaways with other products which have relevant backers with alike interests.
The giveaway can be announced via updates on the campaign page by all the participants of the giveaway.
The backers will then join the giveaway by their email address, and enter it by liking the social media pages of all the participants and/or sharing a post from one of the pages.
Using this interesting cross promotion strategy in your giveaway will allow you to not only grow your network and generate leads, but also establish win-win relations with your partners.
Now you know the formula of your next super effective strategy: Giveaway + cross-promotions.
Go and try it out!
Make your page irresistible by using breakout clips
Have you ever been struck by a heart shot from Cupid's arrow while scrolling your social media page?
Or maybe your page has been slightly flooded with ocean water flowing from one of the ads on your page?
No?
Then you've definitely come across a dinosaur head roaring at you out of some weird post.
Well, I'm not telling you about my last night's dreams.
It's just the effects of a cool online tool called Breakout Clips, which gives you maaaany templates you can adjust to your brand to create amazing 3D posts for your socials, ads or whatever you want.
Each template has a drag & drop editor so your task is just to use your brand's colors, add some texts and adjust it to your brand.
This tool is a real gift for you and especially the video editors, since it saves so much time, plus it gives you new ideas and various options.
The tool is paid (like all good things in life) but it offers 3 pricing options to best fit your needs:
Personal $39/mo
Business $99/mo
Agency $199/mo
Enjoy and make your page burst with creative, funny, and out-of-the-box content!
Adding interactivity to your main video for best results
Main videos are one of the most selling interactions on Kickstarter and Indiegogo.
Unfortunately, only about 10% of all visitors watch them although you spend lots of resources to create the best video possible.
But the good news is that 10% also means lots of chances and room for improvement.
Now the question is: How can you make your prospects engage more with your main video?
One of the ways you can do this is to increase your video views through gamification.
But how?
Well, you can offer your customers something extra if they watch the video till the end.
That can be an extra discount, which they will be able to claim only after answering the questions about the video.
After seeing the extra discount button the page visitors who just scrolled past the video will most likely want to go back and watch it to get the special deal.
This way, you can use gamification in your main video to not only increase your video views but also boost your conversion rate with the special deal.
Genius, isn't it?
_______________________________________
That's all we had for today, guys.
Each week we explore new and more unique ways to use our voice and reach out to our prospects.
But I was wondering which is the one Know-How you're going to use in your work this week?
Are you going to host a Q&A session on your Facebook page or use voice typing on Google docs? Or maybe you're going to organize a joint giveaway and boost your sales?
Personally I'm going to prepare for the Valentine's Day sales and host a breakout clip with rose petals scattering on my customers' Facebook page. And you can try out gamifying your main video and then share your experience with us.
Wishing you an effective week ahead!
See you next time.