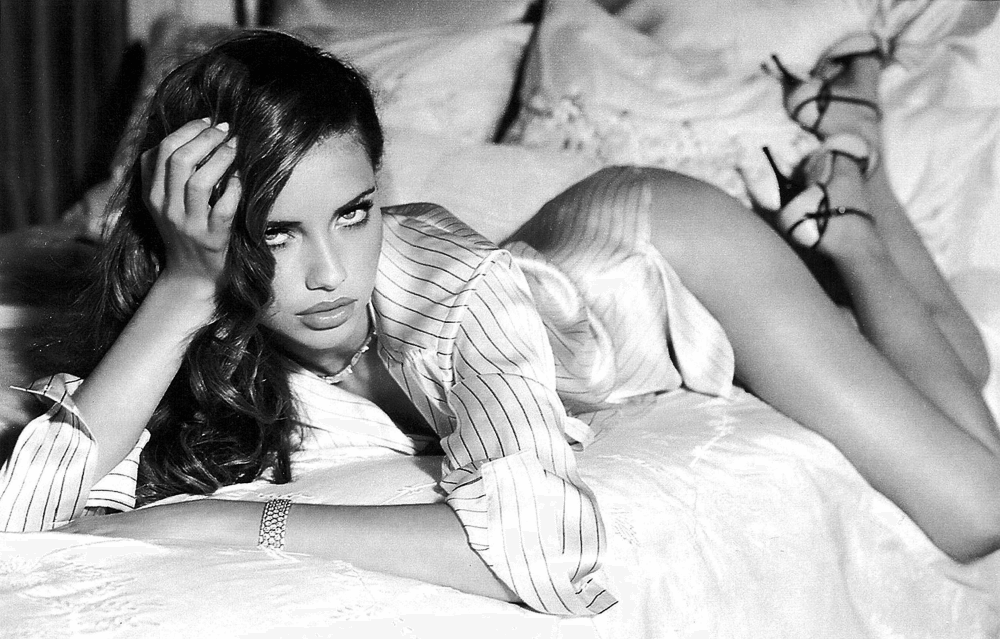 Search for the tips to help people run successful crowdfunding campaigns, and you'll likely come across articles that say planning, videos and rewards are the most important aspects of your campaign. We've talked about the importance of these factors ourselves, so we're not going to undervalue them, but we think there's a much more important factor out there. Sex appeal. What is it about your campaign that people like, what encourages them to click on it and donate? Take a look at the 5 key factors you should consider before launching a crowdfunding campaign.
Project Image
Your thumbnail image is very important. It is the first impression you make; it should be distinctive, colorful and click sexy.
Title of your Campaign
I have heard more than once that the title of your campaign is not that important. It might not drive people to part with their cash, but it is important. If the title of your campaign doesn't attract backers, nobody would ever know how great your campaign was. When choosing a title for your project, there are three factors to consider. Your title must:
Catch people's attention.
Spark their curiosity.
Send a clear message about your campaign.
Click Sexy
What do I mean by this? OK, so your name has to be compelling. People should notice it when they're scrolling through name after name on Indiegogo or Kickstarter. It should be short — 6 to 8 words — and easy to remember. It should include keywords that catch people's attention. Top, Monster, Mega, Smash – words that let people know this is an opportunity not to be missed. In short, it should compel a reader to click on it.
Message
By saying message I don't mean what your project is about, I mean the impression people have about your project. In other words, how do you want them to remember it?
Usually, the best titles are composed of two main parts: the name itself and the message. With 6-7 words, you should be able to influence how a reader sees your project. I understand that it is hard to describe your project in one sentence, but you need to consider every word of your message. E.g., "Nebia Shower – Better experience, 70% less water." With this one sentence, we get an idea that the Nebia Shower claims to provide a better experience than we currently have by using 70% less water.
So, with the first part of your title, you should grab attention, with the second, provide a message.
OK, you grabbed people's attention, and they got an idea about your project, is it enough to earn you a click? No!
Curiosity
You should ignite backers' curiosity. Curiosity is strongly related to the interests and problems of the people you want to target. It means you should carefully develop your message and underline the core competencies you think make you different and more attractive than your competitors. You can analyze your project headline with this free tool, which will analyze the emotional value of your title.
http://www.aminstitute.com/headline/
Paste your headline and see how sexy it is (N.B., I would not take this very seriously, but it is worth a try).
The "Green-Bar" Effect
Look at these two projects: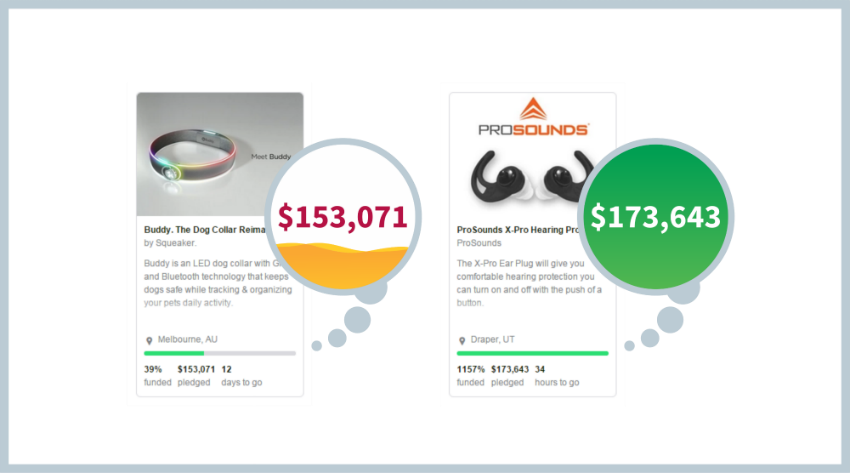 They both collected a similar amount of money ($153,071 and $173,643).
However, the first one has collected only 39% of the requested sum, while the second one has collected 1157% — it's green bar is full, it's perceived as more successful and way more attractive.
This phenomenon I call a Green-Bar Effect. When people see a lot of projects on a crowdfunding platform, they veer towards the one that has the green bar already filled in, because they're curious projects that get fully funded. Success creates momentum, and momentum creates a 'snowball effect'.
Make the most of the Green-Bar Effect and set your goals as low as possible to get more backers. Of course, even the lowest goal must account for your expenses.
Most of our successful campaigners say they're surprised by how little funds they have left at the end of a crowdfunding campaign. The biggest platforms (Kickstarter and Indiegogo) currently take a 5% fee. In addition to that, you can subtract 3% for the fees charged by their payment processing partners (Stripe and Paypal respectively).
The money you raise is considered taxable income so Uncle Sam will want a cut as well. It's important to factor all these expenses into your target amount.
The good news is that crowdfunding is not just about money. Yes, money might be the driving factor behind your campaign, but you stand to gain a whole lot more from crowdfunding. It will help you assess the demand for your product, get feedback from your customers, pre-sell items and much more.
In fact, there're 9 great reasons to crowdfund that have nothing to do with money.