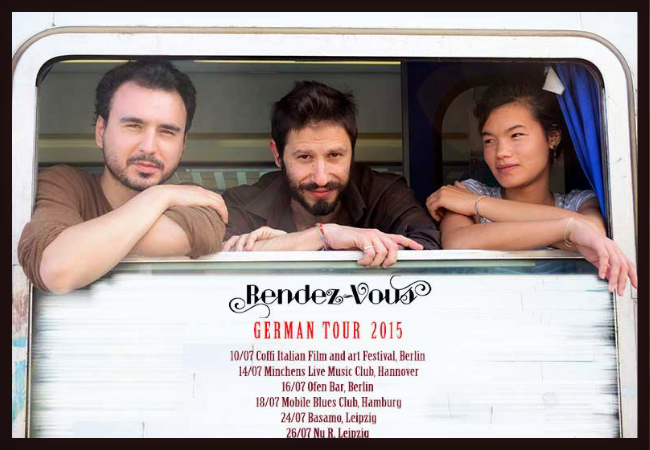 After two years making beautiful music together, our latest success story launched their 'Soundraising Campaign', and showed us, mere mortals, how to add style, pizzazz and a personal twist to the crowdfunding process. With a name like Rendez-Vous (monikers might just be their superpower) and some pretty impressive credentials – this folksy trio met at the wedding of the celebrated opera singer Natalia Pavlova – it's no surprise that Luca, Francesco, and Sissou packed their crowdfunding campaign full of creative fundraising ideas.
Aiming to raise enough money to record their EP, Rendez-Vous isn't the first band to turn to crowdfunding to make their dreams a reality. In fact, this folksy trio was inspired by the success of another musically minded friend, Mataji Booker.
"She used crowdfunding to finance her EP and her North-West US tour," Luca explained when we caught up with him. "This success convinced us to choose crowdfunding too. The artistic and musical environment has changed enormously, and musicians need to adapt. To break through and be successful, sometimes you have to take on the responsibilities that traditionally belonged to the music system.
"But if you don't have the same resources as SiCo, are there any pitfalls potential campaigners should be aware of? "Crowdfunding works perfectly providing you do your research," Luca warns. "At the beginning of our campaign, we were evaluating whether or not to buy a $500 bundle from a press agency. It seemed very good but, after a bit of research, we found someone who had purchased the same bundle and only had a couple of articles published on blogs that no one had heard of. So yes, you do need to be very careful."
So research was key to their success? "And planning, lot's of planning!" Luca smiles. "We've been planning this since last autumn! We drafted biographies for all the band members, created a video clip of 'Osho Song, stepped up our live performances to fund all these production costs and invested a serious amount of time meeting potential backers, presenting the project to them and asking for support."
So what was the most important aspect of their success? "We treated our crowdfunding campaign as a full-time job." Luca is quick to emphasize how much work goes into a successful 'soundrasing campaign'.
"We spent days attracting interest and curiosity in our project and building up a following. Our Indiegogo page is full of videos and information about us and our initiatives, which increased our visibility and gave backers a real feel for who we are, where we've come from and where we're headed."
Which is straight into the studio thanks to the 85 backers who helped them reach their $6000 fundraising target. "We want to pay back our followers by transforming their support into a successful product. Then we'll begin planning our first European tour for next spring or summer."
So there you have it, a few creative fundraising ideas and proper preparation are all it takes to turn dreams into reality.