Fed up of scrawling your contact details on a luggage tag in the checkout queue? Or trying to decipher it at the other end, when you're standing next to the guy who bought the same suitcase as you and marked it with the same illegible blue scrawl, on the same complementary paper tag? Well, you'll be happy to hear that, thanks to the magic of the crowdfunding platform, there is a solution in the works.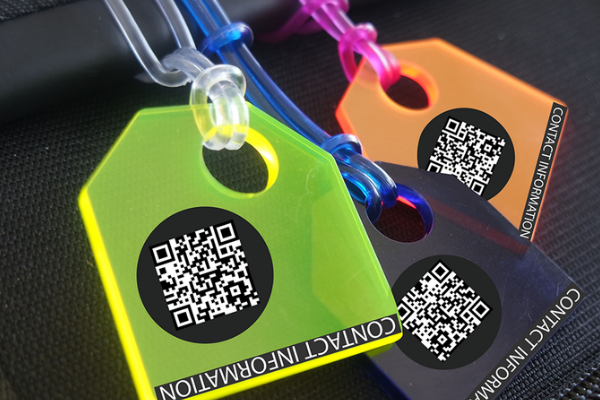 Tired of luggage-tag-related holiday niggles, Brian Høj Anderson came up with a pretty nifty solution. It's called the Tagonce, and it does exactly what it says on the tin.
With a new generation luggage tag you don't have to write the same contact information on your luggage tag every time you travel and search for a luggage tag, at the airport. In case your luggage is lost, people can easily scan and read your info without any app and contact you.
Emblazoned with a QR code and not a lot else, Tagonce allows you to update your contact details directly from your phone.
You can even enter an itinerary and the tag will automatically update your contact information as you bounce from one hotel to the next.
Like many of our campaigners, Brian chooses crowdfunding for the built-in PR and market analysis that comes for free with a Kickstarter campaign. "We wanted to prove that what we thought was a good idea, really was a good idea and that people worldwide would actually show interest." And boy, did they! A hugely successful crowdfunding campaign means that Tagonce is set to hit the market in three different colors, two designs and with a choice of plastic or leather straps after generous backers helped Brian smash not one but three stretch targets.
It's a world away from where he thought he'd be at the end of his first foray into financing through a crowdfunding platform. "We failed the first time," Brian admits, proving just how important it can be not to take failure to heart. And his advice to campaigners in a similar boat? "Don't be afraid to fail," Brian adds without hesitation, "You will learn a lot and no will stop you from trying again. It is essential to have faith in your concept – passion shows!"
So what was key to Tagonce's success the second time around? "The continuous exposure Kickstarter gave us by being ranked 20-30 throughout the whole campaign was pretty much the best exposure we could have got." Unlike other campaigns, social media didn't play a big role in the success of this one. "It was helpful in the beginning," Brian points out, "To help us mobilize our own network and get traction, but after that, it didn't play a big part."
Which just goes to show a proactive crowdfunding platform and a problem solving idea is all you need for success.