With a handy barrier to keep little fingers out of things they shouldn't be in and a collapsible design that's small enough to fit into any diaper bag, Mike Perry's portable changing pad has 'The Next Big Thing' written all over it. Every parent who spots it can't help but rush out and buy two and the rest of us have enough sense to realize we've just stumbled on the best baby shower gift – EVER. Don't believe all the hype? Then take a peek at Mike's crowdfunding campaign. Fueled by a great idea, inquisitive tots and desperate parents, this Kickstarter success story only went and smashed its original $15,000 target by 800%!
Inspired by his eldest son (who delighted in flailing around during diaper changing time, getting his little hands into places they shouldn't be), Mike's Clean Hands Changing Pad is a godsend to parents in need of more than two hands. With a collapsible barrier that lets your baby wiggle his arms and peeks across at you – but keeps him out of the diaper changing process – this handy invention has been six years in the making. Mike faced a few more challenges than most of our campaigners. "Baby products have to meet strict regulatory standards," he explains. "The testing is expensive but worse than that, just trying to figure out what testing is required in each country takes days of research. There were so many ambiguities that it became really very difficult."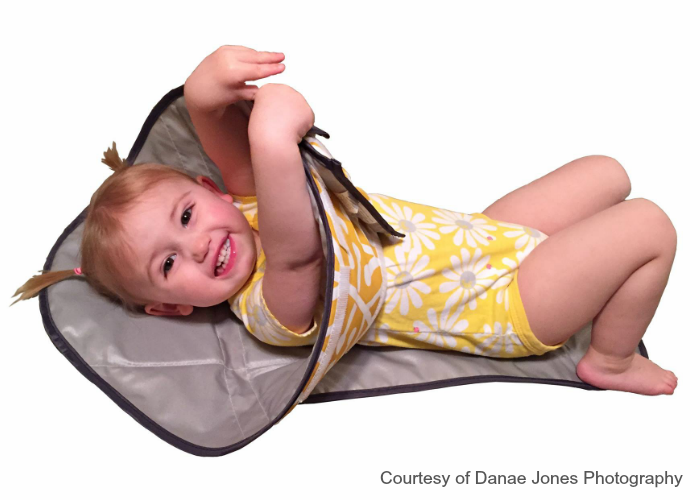 Like a lot of the campaigners from some of the best Kickstarter success stories, Mike plowed everything he had into his idea, investing all his savings in designing, testing and producing the first 100 units. And boy, did all that hard work pay off. Having physical samples of the product on hand was a big help when it came to promoting his campaign. "I had a small batch of 100 units manufactured and sent samples out to bloggers a few months before I launched on Kickstarter. I also teamed up with a company that sells baby shoes, and they put my product on their website for a short period, which got the word out. After the Kickstarter campaign had launched, I enlisted the help of SnoofyBee, a social media advertising agency, they helped me reach a lot more people than I would have alone."
With all this proactive marketing going on behind the scenes, wouldn't it have been easier to use more traditional methods to fund his startup?
Mike disagrees, "There are three reasons I wanted to go with crowdfunding. First, I needed money to get production rolling. I'd spent everything I had, and I needed enough orders to justify manufacturing a large number of units. Secondly, I really wanted to test the market. I thought that my product was good, but I wasn't sure other people would like it enough to actually pay money for it. Finally, I knew that if crowdfunding was successful, it would be a great public way to prove the value of my idea to retailers."
We all know that crowdfunding is a fantastic way to raise funding for your band, or a whacky, creative enterprise, but Mike's success proves that when faced with a product that solves a problem and meets a real need, crowdfunding comes into its own. Mike agrees, "One of the most valuable things the campaign gave us was a community. Our backers are wonderful, they have been able to provide feedback and ideas that have helped us shape the direction we will be going in."
And that's because The Clean Hands Changing Pad solves a dilemma thousands of parents are grappling with daily. It is, literally, the answer to their prayers. Mike's backers invest in his campaign because they need his product and, in a community-based environment like Kickstarter, an invention like his doesn't stay secret for long. Provide people with the solution to a problem and they'll not only pay you for it, but they'll also share it with their friends – which is how you turn a modest $15000 crowdfunding target into a runaway $120,000 Kickstarter success story.