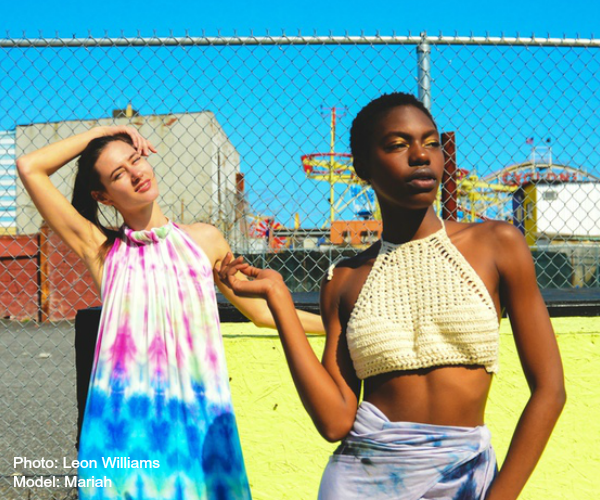 What does the term 'eco-friendly clothing brand' mean to you? If it conjures up images of long wool skirts, hemp shirts and a vague notion of dreadlocks and green thumbs, then you're probably not alone.
It's a stereotype Jackii Ramis of Indigo Apparel has been battling diligently. This cutting-edge designer, with her crochet crops and patterned leggings that wouldn't look out of place in TopShop, is single-handedly revolutionizing eco-friendly fashion. And, thanks to a successful business crowdfunding campaign, she's all set to launch her summer collection, 'STATEMENT'.
"This is my third campaign," Jackii explains, "And I wouldn't have been able to fund the entire collection without it. I might have been able to produce one or two pieces, but it was important for me to stay true to my vision."
So why did this innovative designer put her faith, and the future of her business, in the hands of the crowdfunding community? "Crowdfunding offers you something no other funding method does." The designer says, echoing some of our most successful campaigners. "It allows you to test your market. All of the ideas you have in your head about who will buy your product, where you will advertise, what your hangtags will look like — you get to test everything. If people are interested, and your project is successful, then you come away with more than money. You walk away with a little more knowledge of what people expect from you and how you can deliver it."
And deliver it she certainly does. Indigo Apparel has gone from strength to strength and has come a long way since its first crowdfunding outing in 2012, when Jackii raised $2500 to fund her thesis collection. "Crowdfunding helped me organize my thoughts," Jackii explains when asked about the benefits of business crowdfunding. "It gave me goals to work towards and helped me to keep driving my business forward."
And the secret behind her successful business crowdfunding hat-trick? "It's really important to promote offline as well," Jackii stresses. "Social media played a big role in the success of my overall campaign, as did send emails to bloggers, but it was flyers, networking events and promotions at pop-up shops that worked best for me. There's something to be said for old-fashioned, in-person promotion. People really appreciate it."
Given that each item in her clothing line is handmade, it's not surprising that Jackii's customers respond to the personal touch. Which is why business crowdfunding works so well for projects like Indigo Apparel. It offers them the opportunity to connect with their supporters on a personal level and gives business crowdfunding investors the opportunity to see just how vital their investment is to the future of these enterprises.
It also means we can pop on over to the Indigo Shop and bag ourselves a few pairs of bamboo leggings, because of #ecoisntboring — at least not now that Indigo Apparel is on the scene.