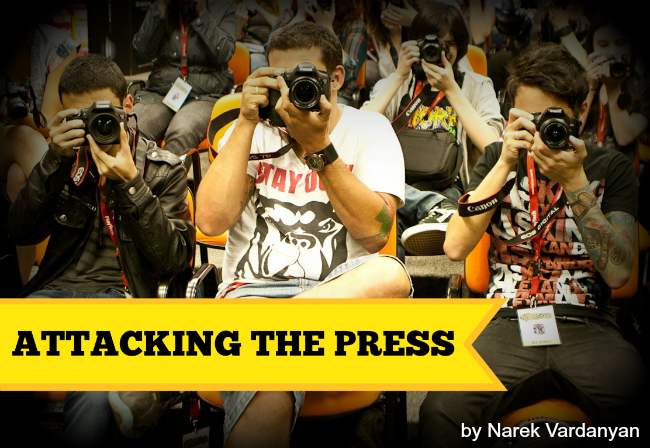 Want to hire a crowdfunding marketing agency for media coverage? Hold on for 15 minutes and read this article, which will save you a couple of hundred (maybe thousands) dollars.
Media coverage is one of the main and most important fights of your promotional war. Hence, winning this fight will most probably mean winning the promotional war of your crowdfunding PR campaign. With press coverage your campaign might go viral, attracting thousands of eyeballs and turning them into backers. In order to convince a journalist or a blogger to cover you, you should have irresistible arguments and a tested strategy (like the one below). Here is how to Attack the Press.
It is very important for you to find a journalist that is interested in your field and have some tangible angles to your product/company.  You should try to be heard by everyone, but if you are mentioned by a famous journal, then it will have a viral effect. Don't send your film making materials to a journalist whose major audience is technology. It definitely will not work.
Finding Articles of Needed Authors
First of all, you need a list of potential journalists and bloggers who might be interested in what you are doing. To start building that list, write down the topics that are somehow associated with your product. Categorize them according to their importance. Define the Keywords that are relevant to your topic from various angles. I generally use 4 tools to find the needed authors and bloggers:
Although most people know how to search for basic things on Google, only a little percentage really benefits from its power of searching for things professionally. Here is exactly how to find the needed things using these techniques.
"" Quotation Marks
Quotation marks require words to be searched as a phrase, in the Exact Order you type them. So, when you want results that contain film crowdfunding, you search it in the quotation mark "Film Crowdfunding".
You see that Google brought results containing our keyword both in the title and in the body text. So if you want to search the phrase exactly in the title of the results, here's how to do that:
intitle:"Film Crowdfunding"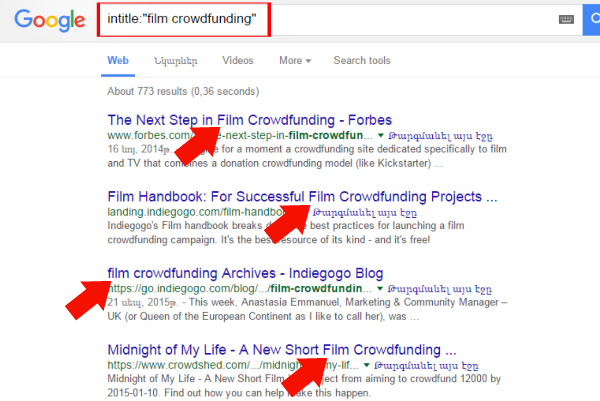 If you want to include other words in your search, like "successful" you should put the word AND. So "Film Crowdfunding" AND "Successful" will bring you all the results that do contain these two words.
If you want either of the results, simply put OR between the searched words, in that way Google will bring results containing either of these words.
The more words you enter connected by OR, the more documents you get. It broadens the search. The OR operator is generally used to join similar or synonymous concepts, like "film crowdfunding" OR "movie fundraising".
If you want the results to be exactly articles or blog posts, you should write the following query:
intitle:"Film Crowdfunding", article (or blog)
In order not to save each of the results one by one, scrape the results using Oscraper (free Chrome Extension) which will save all the URLs of your Google results in a .txt file.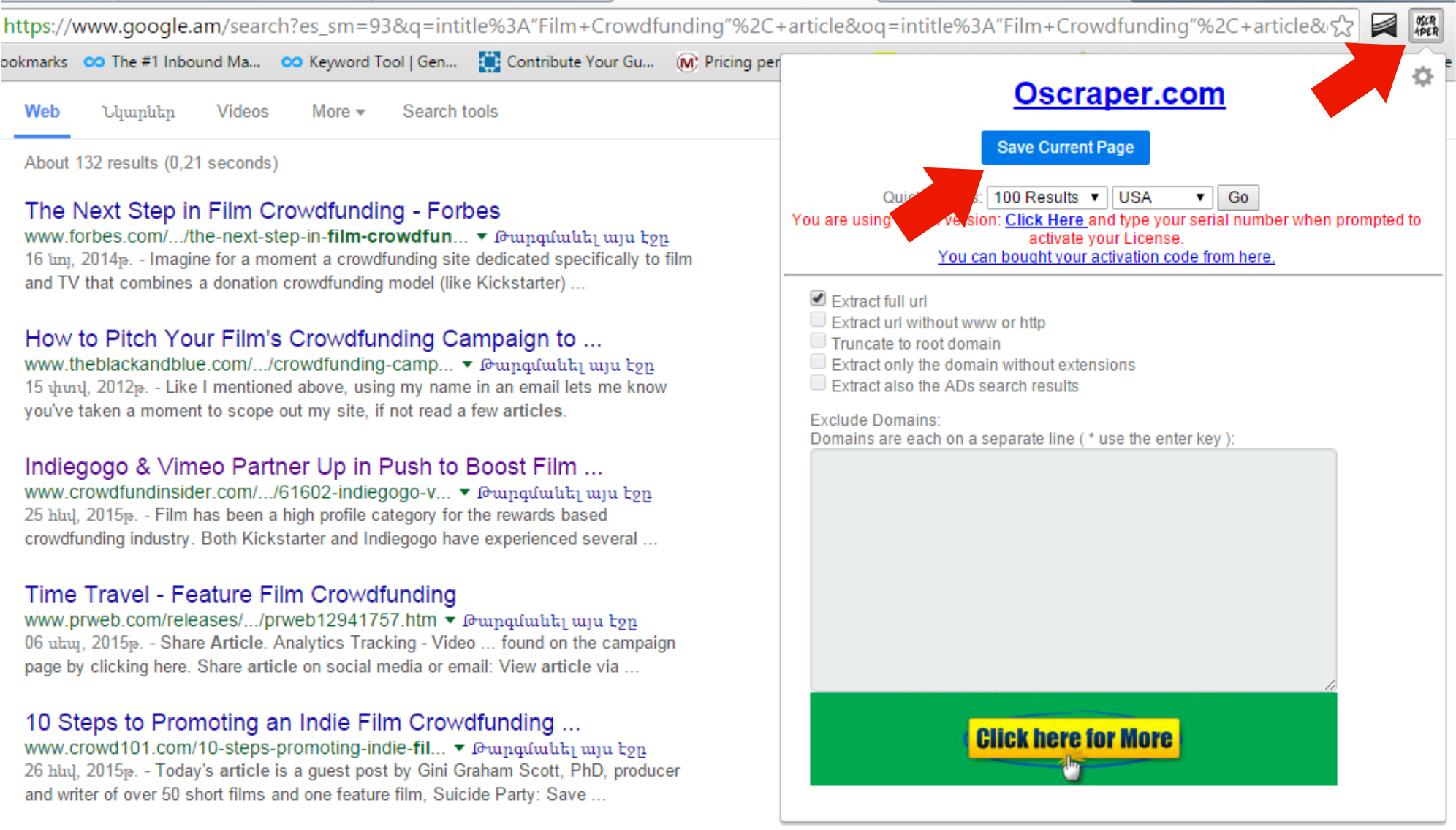 Remember, that you need the famous journalists first? You should sort your results according to their popularity. A good measure of page's popularity is Page Authority Score (a measurement from 0 to 100 on how well a specific page ranks on search engines). To check the Page Authorities of all your results in bulk use 99webtools.com.
To do that, just paste the results in bulk from your scrapped .txt files and press the "check" button.
Open an Excel spreadsheet and paste the results. Filter the results according to the Page Authority, which is the best indicator of the popularity of a particular page.
You can also use the Google News API to broaden your search. To do it in an organized way, open this Custom-Made Tool, search for a keyword and download the results in a CSV file. Filter the results according to Page Authority using the same techniques described above.
I highly recommend in addition to use Buzzsumo, Muckrack and Grouphigh websites, which offer paid tools ($99; $179 and $450 accordingly), however, each one provides 7-14 day free trial periods (you should negotiate a little with Muckrack and Grouphigh to give you free trial, but it's definitely worth to), which is pretty enough to extract out all the database you need ;-). They provide great opportunities to find targeted journalists and bloggers. With Muckrack you can find their email addresses, Twitter URLs, number of Twitter followers etc.
Bling… that's it! You just earned (saving is also earning) couple of hundred dollars. You have a list of articles, sorted by their popularity. In the next sections, we are talking about how to find the contacts of authors and how to reach out to them.
Building Journalists' Contact List
When you have a list of articles, organized in a prioritized way, you need to find the contacts of journalists or bloggers as not everyone shares their contact details under the article. One of the hacks I use to find the email addresses of needed journalists is the following:
I start searching on Google using the following query "author name" AND "domain" AND "@gmail.com" (Gmail is the most popular email service, but you can check with Yahoo, Hotmail etc.).
Example: I want to find the email of  Bianka Bosker, who is a Huffington Post journalist and is writing about topics which are relevant to me. I search the following query on Google. (Sorry Bianka, if you are reading this post:))
And Voilà! I have her email right on the first result. If it doesn't work, modify the search using the following hints:
You can also try to find the contact information of journalists on the following websites:
If you are still struggling to find the contacts of journalists, you can simply buy it. The most affordable list that contains crowdfunding-related authority journalists I've found on Fiverr. In here you can find 100-500 crowdfunding, Kickstarter or Indiegogo related journalist's contacts ranging from $5-25. Very cheap! I bought this gig and it was really worth to:
Bling… another couple of hundred $ earned!
Preparing a Press Kit
Each crowdfunding marketing agency will tell you that reporters are some of the busiest people in the world (and it's true), so the more you help them, the more results you will get. Press Kit is a list of materials for the press. Your press kit should include visual materials of your product as well as your press release. Particularly, cover these points in your press release:
Description of the Problem,
Why you want to solve it (benefits for consumers, not for you!),
How you solve it (what is your product)
Who does it (bio of the team),
Why it is different from others,
Statistical data of your company (only when the statistics are on your side).
Infographics/Photo/Video (make sure to include only high-quality materials)
If some part of your product is not ready, don't include it in the kit. The higher the quality of your photo/video, the greater the chance that you will be noticed.
Place them all in Google Drive or Dropbox and save a link. Don't send it yet, we are approaching the magical part to make your email request irresistible.
 Download Streak
Streak (free Chrome extension) will notify you when and how many times the recipient has opened your emails (or ignored it). When you see that the recipient hasn't opened your email, you should try again, but from a different angle. It has also a great tool of copying your message and displaying it each time you need to send similar emails to different people.
Contacting Journalists and Bloggers
The most convincing argument for a journalist to write about your story is that it needs to be 'newsworthy'. It should act as a complement to his/her previous articles and be interesting to his/her readers. I use the following strategy, you may copy it or invent a better one (copying is easier and will save you a lot of testing resources ;-)).
I read the article of each journalist/blogger and write the following:
————————————————————
Hey John,
I just came across your article about Crowdfunding Backers, published in Mashable. It was a very interesting and informative read for me. Totally agree with your points about the reasons people back crowdfunding campaigns. 
Recently I conducted research (206 successful campaigns were interviewed) about why people donate to crowdfunding campaigns and revealed all the incentives they create to drive people part with their cash.
I am sure, it will be a perfect complement to all of the points in your article and will be very educational for your readers. 
If you are interested in covering this, let me know and I will send you the link. 
–Narek
————————————————————
I'll be honest, this script is not a perfect one and if Dan Kennedy is your uncle, he probably will write a better one for you. But, this is the best one that I came to after many testings.
Analyzing this script
If you get the main idea of this script, you will be able to write similar emails about any of your products, services or fundraising goals.
In the first paragraph, I am writing that I loved something that he did and proving that I've read it carefully.
In the second paragraph, I am writing about my product, that is closely related to his interests. Notice, my research could have been about crowdfunding in general, but if I covered the points that were close to his ones in the article, I am shaping my materials to that angle.
In the third paragraph, I am talking about Why he should cover this and what value he will get out of it. Why he should cover this? Because he will have a perfectly fit material to his topics and his readers will Benefit from it.
Notice, that I didn't include a link to my materials in the first email, so the journalist didn't think that I was fishing for a link or spamming.
These folks are being bombarded with spams and email requests all day long, but email which offers them help to get a piece of worthy news stands out from their spam list.
Bling…! (you know this sound)
A Crowdfunding Marketing Agency May Not Agree, But…
The best time to contact the press is right after you launch your campaign when you already have some backing (you should try to collect 15-20% of your funding in the beginning)  and have some credibility for the media to speak about you. Typically, your campaign will experience a dead zone, or as Kickstarter calls it, "The Trough" making your campaign a U-shape. This means having a strong start in the beginning and in the end, leaving lower supports what is in between.  A good article after your start will help make your U-shape campaign a W-shape. Of course, if you have good relations with a journalist, you can write to him/her before your campaign and agree with him/her about an "Embargo"-that is not to write anything before your start.
But, keep in mind that reporters HATE EMBARGOS, and probably some of them will break the word and jump ahead to publish it before you start-which will change your plans. Instead, they love EXCLUSIVES, when you provide them with an exclusive right to write about you.
Avoid Mistakes when Dealing with Journalists.
Remember, if there is no "News Factor" – there is no news. Do not send:
Mass Messages (CC or BCC)
Emails with improper grammar
Info for investors (market size, growth opportunities, profitability etc)
Info without a news factor.
Submit your Press Release to Distribution Services
There are many services which will distribute your press release and if your news is an interesting one, you might get good coverage. Here are a few services I have used:
Now what? Relax! You just earned (or know how to save) some $500-$1,000 commission to be paid to a crowdfunding marketing agency for press coverage.